Pentland Model Boat Club Members Win Prizes
14th September 2013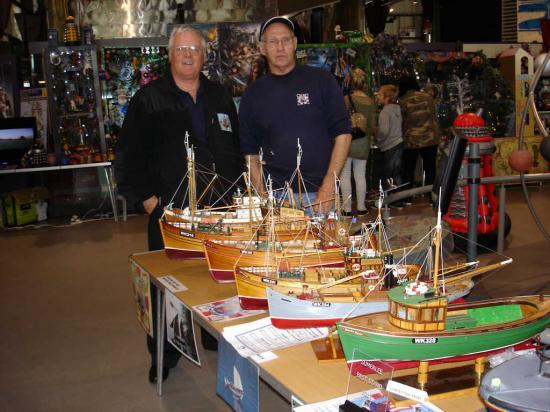 Members of the Pentland Model Boat Club based in Thurso were away to Coatbridge last weekend for the annual regatta of the Scottish Federation of Boat Clubs.

The regatta this year was held in Summerlea Museum.

Ted Miller who has built many model boats and has great eye for detail won the boxed section with his model "Yorkshireman". In addition he picked up a third place for another model - the lifeboat "Helen Comrie".

In the scratch built section took Billy Macintosh took a third place with his model of "Thorsa".

In the semi kit Ted Miller once again picked up a prize by coming second with "Good Sheppard" while Billy Macintosh took 3rd place with his model of the lobster boat "The Golden Sheaf".

To finish the guys got the award for the best club stand which was a suprise as most of the clubs were present and there was a good display of boats which were of excellent quality.

If yui would like to take a look at more of the models the club memebrs make take look at Photos of Model Boats in 2005
Related Organisations
Related Articles
The annual Caithness Model Boat Show for 2015 was once again held at the British Legion club in Thurso on 9th May 2015. The winners were as follows - John Webster followed by Ted MIller, Billy Macintosh,and Robert Mowat.
Another good entry for the 2014 model boat show run each year by Pentland Model Boat Club. The winning entries in each of the categories chosen by the judges were - Warships - K80 - Ian Moore Search and Rescue - Taylors Thurso Life Boat - Ted Miller Fishing Boats - Thorsa - Ian Mackintosh Work Boats - Ballachylist - Dave Lambert Leisure Boats - Jet Stream - Ted Miller Sailing Boats - Grand Banks Schooner - Billy Mackintosh The overall winner was Ted Miller for his Taylors Thurso Lifeboat.
Pentland Model Boat Club holds a show each year usualyin the Briitish Legion club in Thurso..
The Pentland Model boat club holds show each year in the British Legion In Thurso..