Bower Busy Bees Playgroup & Nursery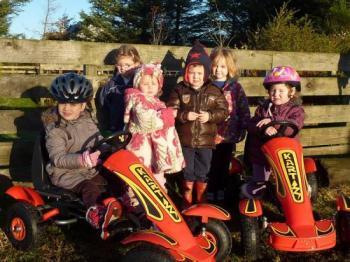 Scottish Charity Number: SCO13192
SCSWIS number: CS2003008548

Bower Busy Bees Playgroup & Pre-School offers early education for children ages 2.5 years to 5 years of age.

Bower Busy Bees follows education guidelines from the Curriculum for Excellence, offering a variety of stimulating learning experiences both within the classroom and also outdoors.

Our centre allows your child to grow and develop into confident individuals through various child centred learning activities.

We strive to establish close relationships with parents, it is important to us that you are aware of our number one priority, your children!

We hope that working together will allow your children to feel safe, secure and most importantly... HAPPY :) !
Postal Address
Bower Busy Bees Playgroup & Nursery
The Stables
Bower Community Centre
Bower
Caithness
KW1 4TT
News for Bower Busy Bees Playgroup & Nursery
Nursery children at Bower Busy Bees are thoroughly enjoying the recent revamp of their outdoor play area. The Highland Council Community Payback, under the management of Rodney Brass, painted the wooden fence, furniture and play equipment within the nursery garden ready for the children returning from the school holidays.
If you contact this Organisation, please let them know, you found them in the Community.Caithness.Org