Caithness Food Bank Busier Than Ever Getting Support From Highland Highlife Staff Volunteers
31st March 2020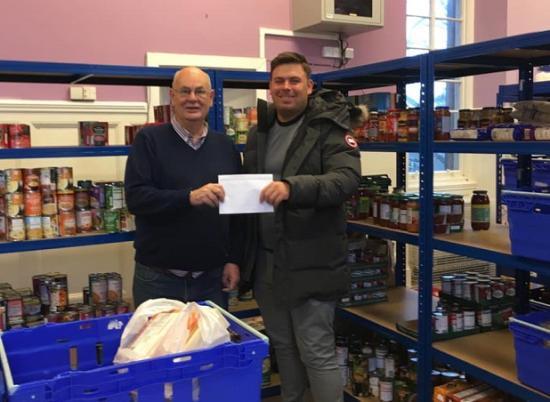 Caithness food Bank has been busier than ever but managing to keep support going in both centres in Caithness.

The team of volunteers are adhering go the Covid19 guidance and quite a few are staying at home due to their age and/or vulnerability.

The group are managing social distancing and now using a delivery service with the invaluable support from Highlife Highland staff volunteers.

Last week Caithness Food Bank provided support for almost 50 clients throughout the county.

Chairman of the Caithness food Bank Grant Ramsay said,"During the coronavirus outbreak, we're still providing people in crisis with emergency food. Your support is vital - if you are considering donating, we're running low on:
1. Cereal
2. Tomato soup
3. Tinned tatties or packets of instant mash
4. Diluting or long-life fruit juice

Please drop your donations off at the various collection points in our area:
WICK - Tesco, Coop, Lidl, Keystore More and B&M store
THURSO - Coop, Frasers store, Bews and Lidl
CASTLETOWN - McColl's store

If you wish to make a cash donation then please contact us on: info@caithness.foodbank.org.uk

We will then forward our bank details to allow you to pay into our account.

We are still supporting people in crisis with emergency food at our centres in Wick and Thurso - it's hard for us to say how things will unfold in the coming weeks with the Coronavirus, but we will continue to provide help wherever possible and if anything changes, we'll let you know.

We are operating as a delivery service with further volunteers from Highlife Highland being our delivery team in the area.

We are open in:
Wick - Tuesday and Thursday
Thurso - Tuesday and Friday

If you do not have enough money for food and live in Caithness, we're here for you - instead of coming to the foodbank in person, you must contact a local agency like Citizen's Advice Bureau, P.P.P., Homestart, Caithness Mental Health Team or phone the COVID -19 Freephone Helpline 0300 303 1362 and they will assist you."

Grant Ramsay - Chairperson, Caithness Foodbank.

Caithness Food Bank Facebook

PHOTO
Grant Ramsay (left), chairman receiving a cheque from AfterglowTanning back in December 2019.