Old St Peters Kirk - Graveyard Survey
21st March 2019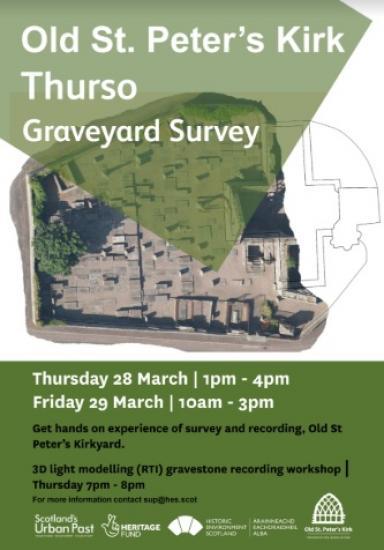 Old St. Peter's Kirk Preservation Association and Historic Environment Scotland are teaming up to hold a two day workshop on how to survey and formally record the graveyard and gravestones. They will also be demonstrating techniques to help decipher faint inscriptions on the gravestones.

A great opportunity for any photography or family history enthusiasts!

If you are interested please email us on oldstpeterskirk@gmail.com, so we can keep you informed of any foul weather changes and provisions.

Two days - Thursday 28th and Friday 29th March

Day one of the workshop starts at 1pm at the Kirk.
Related Organisations
Related Articles
By Valerie Forsyth. Old St Peter's Church in Thurso, Caithness, is one of the town's most iconic ruins.