Caithness International Science Festival 2015
1st March 2015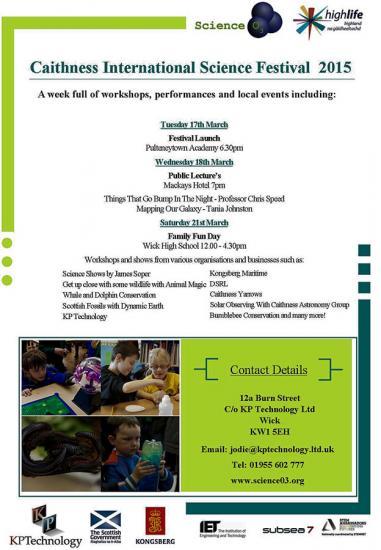 As well as the schools programme, this year there will be activities for the general public throughout the week, including:

Public Launch Event: Pulteneytown Primary Academy School, Tuesday 17th March at 6.30pm

Festival Patron Lord-Lieutenant for Caithness Anne Dunnett, along with Festival Chairman Professor Iain Baikie, will launch this year's Festival and present prizes to the winners of this year's Schools Design Competition which were kindly donated by Kongsberg Maritime Ltd.

There will be performances by various presenters, along with "taster" workshops that were on offer to the school children throughout the festival week. Entry is FREE.

There will also be two public lecture's by award-winning Prof Chris Speed about the internet of things called "Things That Go Bump In The Night".

"Mapping Our Galaxy" by Tania Johnston will also be available

These Lectures will also be offered to the High Schools

These will take place on Wednesday, 18th March at 7.00pm, Mackay's Hotel.

Science Family Fun Day - Wick High School, Saturday 21st March 2015, 12 - 4.30pm, FREE

Come along to our Family Fun Day and join Dynamic Earth, Animal Magic, James Soper and a host of local organisations and groups for an afternoon of exploration and discovery.

Local schools will be competing in the "Science Olympics", displaying their work in science and maths.

There will be plenty to see, make and do for all ages and entry is FREE!
Related Organisations