Canisbay Couple Celebrate Golden Wedding With Gift To Caithness Heart Support Group
24th August 2014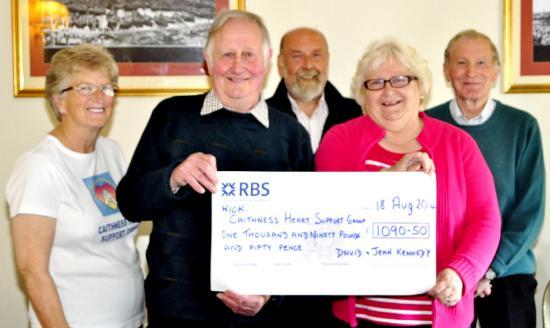 CAITHNESS Heart Support Group's funds received a welcome boost from Canisbay couple David and Jean Kennedy (centre) in the shape of this cheque for £1,090.

The couple, who live at Granzel, Tresdale, asked well-wishers to donate cash instead of presents on their golden wedding anniversary, for a charity of their choice.

Group vice-chairman Noel Donaldson said: "It was a thoughtful and generous gesture which will have a lasting benefit in the community, as funds raised by the group are spent on medical equipment for GP surgeries in the county and Caithness General Hospital.

We seem to be funding more expensive items, these days, so the Kennedy's contribution is particularly appreciated."