Probationer teachers welcomed to the Highlands for 2014
15th August 2014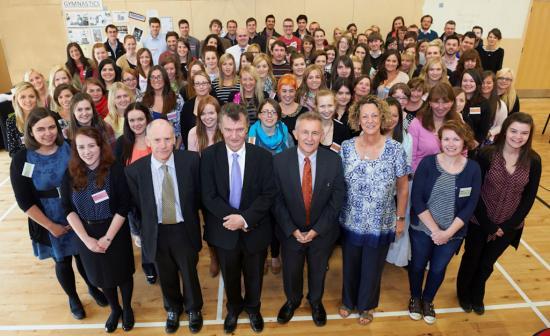 One hundred and eleven probationer teachers were welcomed to the Highlands today (15 August 2014) at an induction meeting held at Milton of Leys Primary School, Inverness by Councillor Alasdair Christie, Chairman of The Highland Council's Adult and Children's Services Committee.

Councillor Alasdair Christie, Chairman of the Council's Adult and Children's Services Committee, said: "Welcoming Probationer Teachers to the Highlands is always a pleasure for me as their enthusiasm and commitment to teaching is inspiring. They provide a welcome boost to our schools and play a vital role in the provision of education for our pupils. I am pleased that The Highland Council is able to offer a high level of placements for Probationer Teachers who are on the first steps of their careers."

Hugh Fraser, Highland Council's Director of Education, Culture and Sport also welcomed the 111 probationers starting in the 2014/15 academic year. The number of probationers is the same as those who undertook their Teacher Induction Scheme placements last session, maintaining the increase of 8% of probationers who carried out their probation in Highland schools during the 2012/13 school session.

The new teachers will be starting work in schools across the Highlands when primary and secondary pupils return to school following their summer break on Tuesday 19 August.

Of the 111 probationers, 49 have been allocated to secondary schools and 62 to primary schools in the Highlands.

The number of probationer teachers in primary schools in each area is: 2 in Badenoch and Strathspey, 10 in Caithness, 20 in Inverness, 6 in Lochaber, 2 in Nairn, 14 in Ross and Cromarty, 3 in Skye and Lochalsh, and 5 in Sutherland.

The 49 probationer teachers in secondary schools are located in each area as follows: 7 in Badenoch and Strathspey, 8 in Caithness, 9 in Inverness, 5 in Lochaber, 1 in Nairn, 12 in Ross and Cromarty, 2 on the Isle of Skye, and 5 in Sutherland.

The numbers of secondary school probationers who will be working in the following subjects are: Art and Design (2), Biology (1) and Chemistry (4), English (6), French (3), Gaelic (1), Geography (6), Home Economics (2), History (2), Mathematics (7), Modern Studies (1), Music (2), Physical Education (6), Physics (2), and Technological Education (4).

The probationer induction day is the first of a number of in-service training days throughout the year specifically allocated to probationer teacher induction and training.

To see a close up photo go to the gallery and right click on the second photo and open in a new tab or window.