KIRK LANE VENUE VOTED TOPS BY NEW YEAR REVELLERS
1st January 2014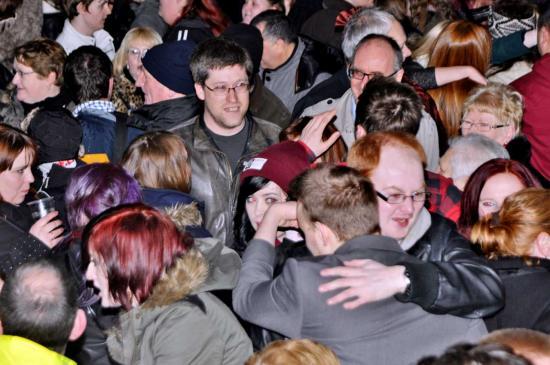 WICKER'S first-footed their new Hogmanay party venue, and judging by the reception, voted it a worthy, albeit temporary, alternative to the Market Square site, unavailable because of construction work on the new council offices.

The build-up to the town's biggest public event of the year, began around 11.15pm and the car park at the foot of Kirk Lane was packed to capacity for the bells. Thurso band Papa Duke and the piping hot Harvey brothers created the right atmosphere for the revellers many of whom came prepared with drams with which to toast the new year.

The celebrations continued in the small hours, even though some of the crowd, including exiles home specially, had drifted away for domestic parties. Alan Farquhar, chair of the street party organising committee, was well pleased with the venue switch, particularly as it will continue as the alternative platform for the next big bash.

A web cam enabled Wickers around the world to catch some of the nostalgic atmosphere.

A good New Year to ane and a' !