Befriending Caithness
www.cvg.org.uk/our-projects/befriending-caithness/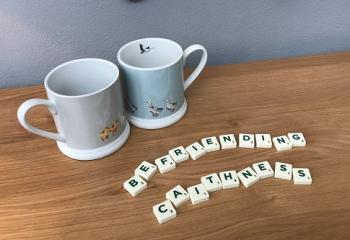 Befriending Caithness is a voluntary service that aims to reduce isolation and loneliness in the county by matching volunteers to older isolated adults in the Caithness area.

Befriending is a supported one to one relationship between a befriender (volunteer) and a befriendee (someone who has been referred to us). Befriending means meeting with each other once a week and sharing in an activity which has been mutually agreed.
Postal Address
Befriending Caithness
Telford House
Williamson Street
Wick
Caithness
KW1 5ES
Contact
Catherine Patterson
News for Befriending Caithness
A visit of the Labour Party Leader in Scotland Richard Leonard MSP accompanied by Rhoda Grant MSP heard from the third sector and Caithness Health Action Team (CHAT) about problems arising to the community from changes to health provision and wide range of topics. Roger Saxon the local Labour party organiser and Alan Tait from Caithness Voluntary Group facilitated the meeting at the Pulteney Centre in Wick.
If you contact this Organisation, please let them know, you found them in the Community.Caithness.Org