Caithness Agricultural Society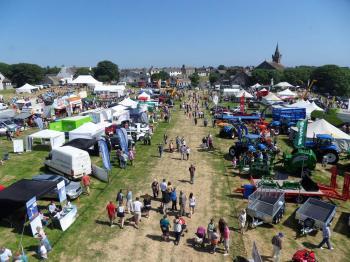 Caithness Agricultural Society organises the Caithness County Show each year.

The Caithness Agricultural Society was founded in 1830 and became limited in 2006. The Society hold the annual Caithness County Show in July every year. This event promotes, for the benefit of the public, agriculturure and rural industries in Caithness. This is done by showcasing the best of the livestock produced in the county, trade stands and also the Northern Quality Produce Marquee, which promotes foods, drink and crafts from within the north of Scotland. Visitors and exhibitors attend the show from all over Scotland. The organisiation covers all ages and ethnicities. There are no barriers to becoming a member of the organisation.

Where are we?
The showfield alternates each year between the Riverside and Westerseat Grounds, Wick to Thurso East, Thurso.

PHOTO
From the 2013 Caithness County Show at Westerseat Farm by Wick.

See more photos of Caithness Shows, Galas and Highland Games at www.caithness.org/fpb/galas/
Postal Address
Caithness Agricultural Society
Eilean Donan
East Mey
Thurso
Caithness
KW14 8XL
News for Caithness Agricultural Society
Cattle Aberdeen-Angus: Champion - B and J Mackay, of Skitten, Wick, with Balmachie Roderick, a thee-year-old bull sired by Balmachie Benvorlick. Beef Shorthorn: J Campbell and Co, of Todholes, Thurso, with Ballylinney Daisy, a 17-month-old daughter of Podehole Edward.
The 175th Caithness County Show got off to a wonderful Saturday morning and rain only came in by the afternoon. Nothing could stop the event by then.
The 2016 Caithness County Show will be here before you know it. So anyone who still has an entry form waiting to go in or has not completed one yet should get their skates on.
The rain stayed off for most of the day. Welly boots were in evidence to get around the show ground..
The Caithness county Show 2014 was held at Thurso East..
Photos from the Caithness County Show 2013..
Caithness County Show 2012 Photos..
Caithness County Show 2011 - Photos..
Caithness County Show 2010 - Photos..
Caithness County show 2009 - Photos.
If you contact this Organisation, please let them know, you found them in the Community.Caithness.Org