Spittal Village Hall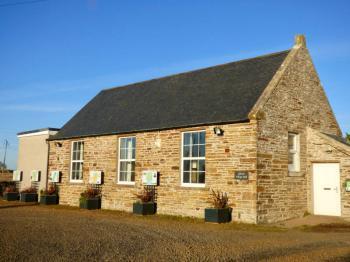 Spittal Village Hall started its life as a private school before 1843, in that year it became the public school for the district. In the early 1900's it had around 80 pupils being looked after by 3 teachers.

By 1971, like many rural schools, the pupil numbers had dropped until the school was no longer viable and it closed when the head teacher retired. In 1975 the Council handed the building and grounds over to a trust for the benefit of the community. A management committee was formed and a small extension added to provide a stage and committee room.

Many years and a few committees later the Hall is still running successfully, being open to visitors for 3 months in the summer with exhibitions of local interest and teas and crafts for sale. Monthly bingo's go on all year with the S.W.R.I. and Bowling Club using it in the winter months. Other functions are occasionally held and the Hall is always available for hire.
Postal Address
Spittal Village Hall

Spittal
Caithness
KW1 5XR
Chair
James Falconer
Spittal Mains
Watten
Caithness
Tel: 01847 841214
Secretary
Mrs Sheila Gillon
Lower Toftingall Farm
Watten
Caithness
Tel: 01955 621257
If you contact this Organisation, please let them know, you found them in the Community.Caithness.Org