Wick Gala Committee
www.facebook.com/WickGalaWeek/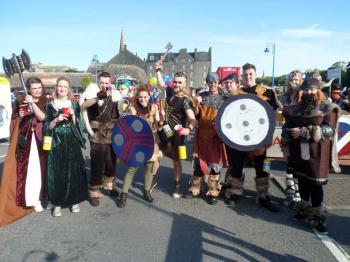 Wick Gala Committee is responsible for organising the Wick Gala week every year. Dozens of events are held during the week every year.
Postal Address
Wick Gala Committee

Wick
Caithness
Chairperson
Donna Plowman
donnaplowman@btinternet.com
13 George Street
Wick
Tel: 01955 603871
News for Wick Gala Committee
See all the photos in the gallery - link above..
Despite another atrocious day for weather in Caithness the decorated umbrellas parade and switch on of the Christmas Lights went ahead. Santa was kept busy chatting to kids in his hut in Market Square..
See a few photo of the fun run in the Photo Gallery link above..
Great night for the Gala. Many photos now in the gallery and more coming on Sunday..
WORZEL Gummidge would doubtless have dismissed it as the last straw...scarecrows deserting their field posts to show themselves off in town.. Goodness knows what Aunt Sally would have said.
INTERMITTENT rain failed to dampen the imaginative enthusiasm of entrants at the fancy dress competition at Braehead - one of the most popular events in Wick Gala Week's packed programme..
The weather cleared away the mist and the Wick Gala 2016 saw a great parade with amazing costumes. See over 500 photo in the galery above.
The rain came down but the crowd voted to go ahead with the event. See all the photos in the gallery above..
Wick Gala 2015 got off to a great start with another fabulous show of decorated floats with many themes. The foot walkers with their collecting tins were as amazing as usual for Wick Gala.
Caithness Pony Club run the Wick Gala Gymkhana each year..
If you contact this Organisation, please let them know, you found them in the Community.Caithness.Org