Wick High Pupils Receive SQA Cyber Security Award
7th January 2020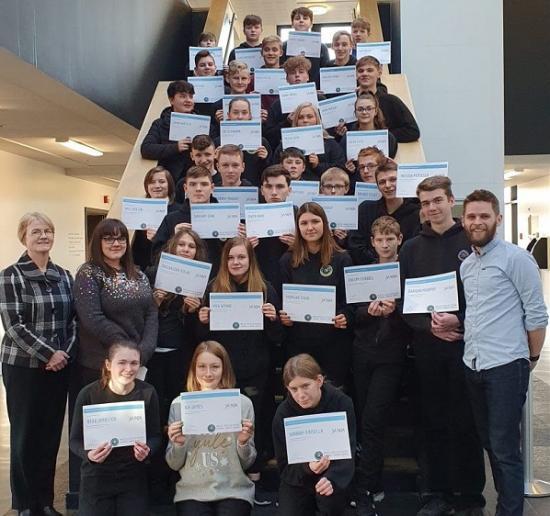 In the second year of running in the SQA's Award in Cyber Security Fundamentals Wick High is delighted that 37 S3 pupils received the award.

After spending two months learning about cyber security threats and how to defend against them, pupils sat an exam that covered both the theory and practical elements of the course. During the two months pupils set up their own Pi-Top devices (miniature computers running a Linux operating system) and secured them against multiple security threats.

Last year pupils hacked the school smart board and this year we decided to take things further and "hack" a teddy. Their tacher Mr Aitken said, "with the rise in internet connected devices, such as smart speakers, watches, vacuum cleaners and kids' toys I was looking for a way that would not only pique pupils' interest but also generate a discussion and reflection on the pervasive nature of these devices. It's quite difficult to buy toys with known security vulnerabilities for obvious reasons so I decided to build my own. I fitted a teddy with a camera, speaker and Raspberry Pi computer and configured it with various vulnerabilities that could be exploited by pupils and this turned out to be a huge success with pupils not only managing to hack into it but also surreptitiously get it to take a photo and email it to themselves. Some even managed to get the teddy to say phrases they'd recorded".

Digital industries in Scotland are growing and as such we should be preparing students to enter this sector, not only as cyber security experts but just as importantly, an awareness of security issues that can affect everyone.

Well done to everyone who gained their award.

PHOTO
Wick High School -
The successful students with their awards, flanked by Dr Grant, Rector, Miss Orr and Mr Aitken computing teachers.
Related Organisations
Related Articles
Wick High School (both pupils and staff) are taking part in this year's #Challenge60 for CLIC Sargent. Completing 60 miles throughout the month of September to support Childhood Cancer Awareness Month.
From Mr Mackenzie Wick High School. The month of May saw our school complete the first full month of using our new student rewards system RedCritter.
High Life Highland recognised top performing volunteers last Thursday at its annual award ceremony held at Strathpeffer Pavilion. The event saw volunteers from across the Highlands recognised for significant contributions to the charity, its clients and customers.
The official opening of the Wick Community Campus took place on a sunny Saturday 16 June 2018. Lord Lieutenant John Thurso performed the unveiling of a plaque to mark the occasion.
Two high school pupils have created an app designed to encourage children to enjoy the outdoors more often. Mari-Ann Ganson and Ellora James, who are both 17, created Envirocache for an apps competition.
The new Wick High School finally opened recently and today everyone was allowed to look around. See the Photo Gallery link above.
Recruitment campaign targets science, technology, engineering and maths. The 'Teaching Makes People' campaign targets university undergraduates studying science, technology, engineering and maths (STEM) subjects as well as people currently working in STEM industries.
Over 140 pupils from Thurso High School, Wick High School, Golspie High School and Tain Royal Academy descended upon North Highland College UHI's ETEC building last week to take part in The Bloodhound Project Model Rocket Car Challenge. This is a global competition backed by Guinness World Records.
From 6am on Tuesday 22nd September 2015 Senior Schools, Academies and Sixth Form Colleges (6:30am for Junior and Primary Schools) registration will open to take part in one of the region's most dazzling, high energy performing arts competitions as the Rock Challenge® and J Rock™ tour returns for 2016! The 2016 Safer Highlands J Rock™ will take place on Wednesday 20th April before the Safer Highlands Rock Challenge® on Thursday 21st April. These events will provide the opportunity for local schools to showcase their creativity, talent and imagination on the stage of Eden Court Theatre.
In what was undoubtedly a first for Wick High school Murray Watts, script writer and director in the film industry compered an evening of short films and Oscar awards. Murray introduced and interviewed his friend author and TV presenter Sally Magnusson describing their family connections over many years.