Eco-friendly addition to Caithness Rural Transport service
4th December 2019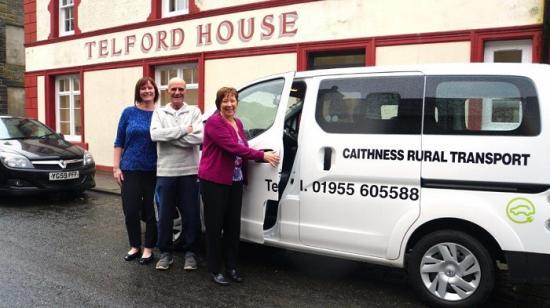 Caithness Rural Transport has a new eco-friendly addition to its fleet which is now up to 10 vehicles offering a transport service in Caithness. The new electric minibus is cleaner and greener.

Not only do these vehicles create zero emissions, they are faster and quieter and can create great savings in fuel and maintenance. For more information about rural transport contact coreen@cvg.org.uk

If there is anyone who would be interested in volunteering for a few hours a week please contact Coreen.

From the Caithness Voluntary Group December Newsletter.

nyone who would like to contribute information about their community group or events planned, or would like to find out more about anything in this newsletter, can contact CVG on 01955 609960, email Yvonne@cvg.org.uk or pop in to the Caithness Voluntary Group office at Telford House, Williamson Street, Wick.
Related Organisations
Related Articles
Funding has become available for community organisations that are setting up support for vulnerable people during the coronavirus (Covid-19) pandemic. The National Emergencies Trust Fund is now open for applications.
Highland Third Sector Interface have set up a new facebook page for Managers in the Sector in Highland, the link is here: https://www.facebook.com/groups/821385825048384/about/ I appreciate that there might be a few different pages getting set up but perhaps if you want to join this one we can keep in touch both in Caithness and with what other similar organisations in the Highlands are doing. Alan Tait Caithness Voluntary Group.
The voluntary sector will doubtless play a huge part in supporting the vulnerable in the current crises and Caithness Voluntary Group will continue to provide support but for the time being will be working slightly differently. Until further notice Telford House will be closed to all visitors .
As some of you might be aware the level and extent of funding by NHS Highland to third sector organisations has been under review for quite some time. In a couple of weeks David Park the chief officer of NHSH is coming up to Caithness to have a short meeting with some of the current organisations who do receive funding and hopefully explain how the review is going.
The Highland Council took receipt of £9,497 from the old Caithness Partnership earlier in 2019 on condition that these funds were set aside and used in a Your Cash Your Caithness funding event. The Highland Council have topped this amount up to £10,000 now to let the local community once again decide for themselves which projects are needed in their area.
Members of Wick Wheelers cycling cub have taken possession of a rickshaw-style Triotaxi. This came about through groups in Wick working together.
Caithness Voluntary Group wants to find out if groups (and their representatives) are clear about their available services and also, how can services be tailored to current (possibly unmet) and future needs. The survey is aimed at anyone who participates in the running of an organisation.
Good Governance Training will be delivered on Tuesday 3rd September, Pulteney Centre 7pm-8.30pm. Your members what are they?, Ever wondered why you have members and why they are there.
Tuesday 3rd September 2019 10am - noon Pulteney Centre, Wick. This event, delivered by Volunteer Scotland will provide you with the opportunity to discuss the PVG Disclosure Bill in greater detail.
Caithness Voluntary Group have just published the following opportunities in their latest newsletter. Caithness and North Sutherland Fund The CNSFund was established by the Nuclear Decommissioning Authority, DSRL and Dounreay Stakeholder Group to distribute a £4m funding package to community organisations for projects that will increase the attractiveness of Caithness and North Sutherland as a place to live, work and invest.