The Lost Village of Badryrie
28th May 2019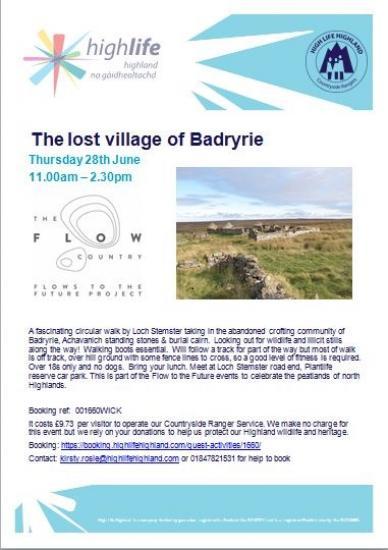 A walk with the Rangers to see the village.

See poster for details and how to book.

David B. Miller
As one travels over the far-famed Causewayrnire road - the A895 - from Georgemas to Latheron, the isolated oasis of Rangag is passed. A small community surrounded by the boundless moors of Caithness, growing less in population as the years go by. Until the second world war there were, in addition to the schoolteacher and gamekeeper, about half a dozen farms and crofts one of which kept a shop with a travelling horse-drawn van. Before the first world war there were about a dozen. Now the whole district is divided between two farms whilst an odd house or two is still occupied by pensioners. At the former school of Achavanich ('the field of the monks') the road forks, the traveller making for Badryrie taking the road to the left which ends at the village of Lybster, seven miles distant. Here at Achavanich, the now disused school built about 1875 to replace the older schools of Rangag and Munsary served in its heyday an area within a radius of about five kilometres with a roll of forty odd pupils. The road we take, about a kilometre on, passes on the left the picturesque Loch Stemster nestling amid Its lonely hills. At this point on the left a farm road crossing over a cattle grid winds round the north side of the loch until it too forks at a point near the old ruined farmstead of Achkinlochbeg (the small field at the head of the loch).

See more events coming up at
[url=www.highlifehighland.com/rangers/upcoming-events/
]www.highlifehighland.com/rangers/upcoming-events/[/url]

Articles about Badryrie -

Badryrie - An Abandoned Crofting Community In Latheron

The Badryrie Project 1984

Badryrie Wood
Badryrie Wood - 18 Years on by Ken Butler
Related Organisations
Related Articles
See the poster. School's Out activities online now http://www.myhighlife.co.uk/sap/.
See poster for a number of events from the Ranger service..
Enjoy a gorgeous spring-time walk up the Dunbeath Strath. Follow the river through the hazel & birch woods and up onto Cnoc na Maranaich to take in amazing views.
So what do you do as a family in the dark evenings? Well here is an unusual activity night organised by the Highland Rangers that families can enjoy together. Join the rangers for a family event in the dark at Dunnet Bay.
A few Ranger events in June. See poster For many more Ranger events across Highland go to - https://www.highlifehighland.com/rangers/upcoming-events/ Don't forget about - Friday 1st June 2018 Area: Wick Foosum Fingers, outdoor messy play, Newtonhill croft forest Have you got a toddler that enjoys exploring outside? Come along for outdoor fun with multi-sensory play activities.
If you want to find out more about bats in Caithness you could not do better than head to Thrumster Woodlands with the Rangers. You might be surprised how many there are and where you can find them.
Armadale Burn Guided Walk Wednesday 10th May 2017. 10am - 1pm.
Join us for a walk along the breath taking cliff tops of Caithness for the 3rd in our series of 7 ranger guided walks along the East Coast, following the John O'Groats Trail. There's a lot to see on this walk - two beautiful harbours, sea stacks and nesting seabirds, coastal flora and a ruined Norse keep.