Labour Party Visit To Caithness Hears About Third Sector and Health Issues From CHAT
2nd May 2019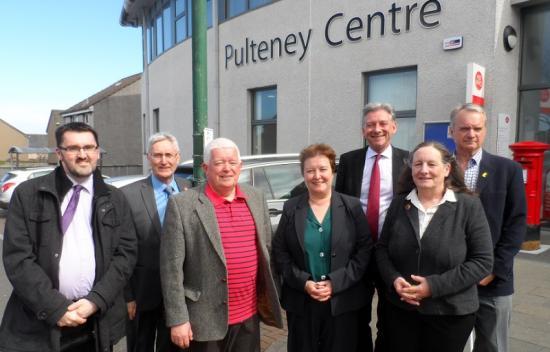 A visit of the Labour Party Leader in Scotland Richard Leonard MSP accompanied by Rhoda Grant MSP heard from the third sector and Caithness Health Action Team (CHAT) about problems arising to the community from changes to health provision and wide range of topics.

Roger Saxon the local Labour party organiser and Alan Tait from Caithness Voluntary Group facilitated the meeting at the Pulteney Centre in Wick.

Bill Fernie CHAT chairman and Ron Gunn, CHAR vice-chairman set out some of the problems for people in the county in respect of health issues while Catherine Patterson spoke about Befrienders and the need for assistance.

lain Gregory of Caithness CAB set out some of the problems faced by particularly low income families in the community and agreed with CHAT regarding travel to Raigmore for health problems. Arising from the conversations with the Labour Leader Richard Leonard was the fact that some people do not take up appointments for Raigmore sure to distance and cost. This is another hidden area of deprivations for some people in the far north. Ian Gregory regularly writes in the John O'Groat Journal and has column blog on the local CAB web site

The Labour Leader now joins a growing number of politicians being told about the problems in the north faced by long distance travel for services.

Ron Gunn, Bill Fernie and Maria Aitken from CHAT also visited the meeting of the annual review of NHS Highland last week andmade several points on maternity and other issues facing people in the north.

CHAT has further coverage in the John O'Groat Journal web site

PHOTO
Includes Labour Leader Richard Leonard MSP, Rhoda Grant MSP, Bill Fernie CHAT chairman, Ron Gun CHAT Vice-chairman Roger Saxon, Vice chair, Caithness, Sutherand and Ross Labour constituancy Labour organiser. Cheryl Macdoanld Chair of Caithness, Sutherland and Ross constituency
Related Organisations
Related Articles
On Friday 18th October four of the CHAT's team visited the new Balfour Hospital in Kirkwall, Orkney. The main purpose of the visit was partly to see then hospital but in particular how maternity services work there.
Operations had to be cancelled across NHS Highland because hospitals simply could not cope, new figures reveal. Data published by ISD Scotland shows that 45 operations were cancelled in May 2019 due to non-clinical reasons such as not having enough staff or unclean equipment.
Mikie Aitken , Quality Control Inspector for Subsea7 Wester Site ,recently won a thousand pounds for a safety award while working on the Equinor Snorre project to be given to a charity of his choice. He chose to donate to Caithness Health Action Team 100mile helper kits which are given to Caithness General Hospital , Community Maternity Unit who give the kits to local women that have to be quickly transferred to Raigmore maternity hospital in an emergency situation.
Contact Caithness Voluntary Group is interested in the following items - 1600mm LH wave desk (ex SSE Perth) - 9 x free to charity. 1600mm RH wave desk (ex SSE Perth) - 9 x free to charity.
Uptake jumps to 96% as 80,000 deliveries made to parents. The new Baby Box design, created by a team of children and young people, has been unveiled.
A popular resource for pregnant women and their families has been updated to include the latest information on perinatal mental health support. A refreshed edition of Scotland's 'Ready Steady Baby' publication was launched today by Minister for Public Health Joe FitzPatrick.
With respect to the new hospital at Aviemore Dr Boyd Peters said "We have been on this journey since 2012 and the land purchase is a significant step towards securing much needed modern healthcare facilities for the population of Badenoch and Strathspey" After seven years it finally reaches the planning stage so that must mean yet another two or even three years until its on the ground and working. In Caithness redesign of health services has been going on and on for several years and recently we have the early stages of a "hub" idea being promoted.
NHS Highland's annual review has been rescheduled for Tuesday 09 April 2019. It will be held in the Centre for Health Science, Inverness with Jeane Freeman, Cabinet Secretary for Health and Sport, in attendance.
A summary of evidence gathered by the Citizens Advice network in Scotland about their work. In total, Citizens Advice Bureaux assisted nearly 262,000 clients with almost 766,000 issues during 2017-18.
Highlands and Islands Labour MSP Rhoda Grant has raised with the First Minister why the air ambulance was not initially called when a Caithness mother went into labour at 30 weeks with twins. At First Minister's Questions today, Mrs Grant told Nicola Sturgeon the woman had bravely shared her experience of giving birth under the current maternity provisions in Caithness.