Family Fun Night and Activities At Dunnet Beach
20th February 2019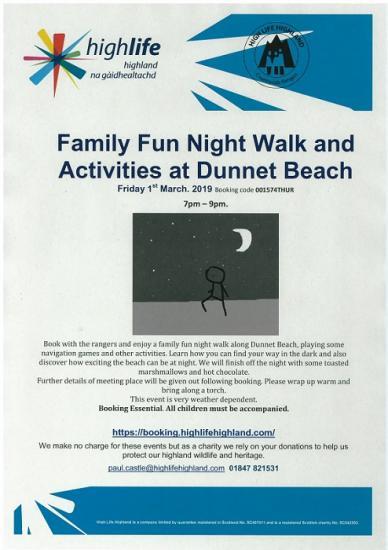 So what do you do as a family in the dark evenings?

Well here is an unusual activity night organised by the Highland Rangers that families can enjoy together.

Join the rangers for a family event in the dark at Dunnet Bay. Have fun enjoying a walk in the dark and playing some games on the beach and in the dunes. We will finish off the night with some toasted marshmallows. Booking essential.

Book your places at https://booking.highlifehighland.com/

Check out further events throughout the year at https://www.highlifehighland.com/rangers/
Related Organisations
Related Articles
See poster for a number of events from the Ranger service..
Enjoy a gorgeous spring-time walk up the Dunbeath Strath. Follow the river through the hazel & birch woods and up onto Cnoc na Maranaich to take in amazing views.
A few Ranger events in June. See poster For many more Ranger events across Highland go to - https://www.highlifehighland.com/rangers/upcoming-events/ Don't forget about - Friday 1st June 2018 Area: Wick Foosum Fingers, outdoor messy play, Newtonhill croft forest Have you got a toddler that enjoys exploring outside? Come along for outdoor fun with multi-sensory play activities.
If you want to find out more about bats in Caithness you could not do better than head to Thrumster Woodlands with the Rangers. You might be surprised how many there are and where you can find them.
Armadale Burn Guided Walk Wednesday 10th May 2017. 10am - 1pm.
Join us for a walk along the breath taking cliff tops of Caithness for the 3rd in our series of 7 ranger guided walks along the East Coast, following the John O'Groats Trail. There's a lot to see on this walk - two beautiful harbours, sea stacks and nesting seabirds, coastal flora and a ruined Norse keep.
An interesting evening sure to be a hit with the kids..
The Rangers are planning a series of exciting events such as guided walks and children's activities throughout the Highlands. "There is something here for everyone" says Eilidh-Ann Phillips, Senior Ranger for South Highlands.