Caithness Science Festival 2018 Fun Day
18th March 2018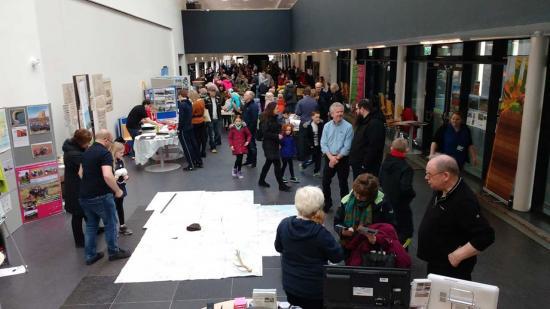 The final day of the Caithness Science Festival - "The Fun Day" gave a chance for listening to talks on various topic and many hands on displays. The day showed to young people that science can be not only extremely interesting but also fun with the added bonus of a potential career.

This was the 16th festival that has grown bigger each year. The fun day was held for the first time in the new Wick High school campus where the covered street that looks like a huge corridor really came into its own managing to house all the stalls and cafe.

Well done to Prof Iain Baikie and his team for continuing to stage the event that reaches every school in Caithness over the last few days.

See more photos in the gallery link aboe.
Related Organisations
Related Articles
Big crowds turned out to see the fun day at the Caithness Science Festival 2019. The science festival has grown each year since its inception 17 years ago.
Sorry about low resolution photo..
Events - The Physics of Mountaineering Mon 4th March, Norseman Hotel Wick, 7pm.Alison McLure from the Institute of Physics talks about the science behind mountain safety and mountain rescue. Tea and coffee and chat to Dr McLure after.
See photo gallery above,.
See photo gallery above..
See photo gallery above..
The Caithness Science Festival 2018 is still going strong in its sixteenth year. The official launch was on Tuesday this week with events running every day.
The Caithness Science Festival had its annual showcase for many areas of science both in Caithness and from elsewhere with lots of experts to answer questions from people of all ages. Lots of photos in the gallery..
Photos from the 2016 Caithness Science Festival. Click the Photo Gallery Link.
The 2015 Festival will get off to a flying start with a busy evening of shows, workshops and prizegiving at the Festival Launch at Pulteneytown Academy School 6,30pm. Introductory addresses by Professor Iain Baikie, Councillor Gail Ross and Lord-Lieutenant Anne Dunnett.