Caithness Health Action Team (CHAT) At Scottish Parliament
9th February 2018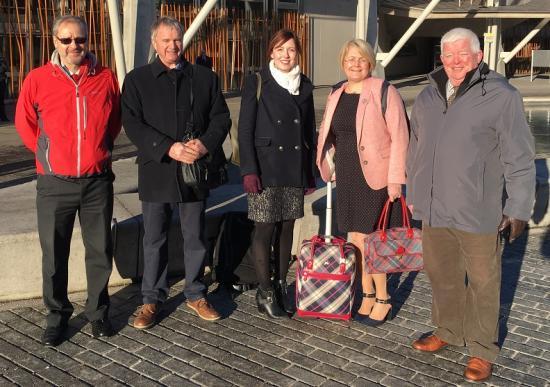 Five members of CHAT formed the delegation to meet with the health minister Shona Robison on Wednesday 7th February 2018.

The team from CHAT each took different elements of health concerns in Caithness to present to those present. Much to the surprise to CHAT the meeting had grown somewhat. The minister had invited a few others to listen including all the Highland MSP's (only Rhoda Grant and Gail Ross were actually present with Edward Mountain left feeling it had been orchestrated to keep him out as he had to chair a major committee meeting that morning. Also present were David Alston chairman of NHS Highland and Elaine Mead the Chief executive of NHS Highland.

The CHAT team and topics were -

Brief Introduction by Bill Fernie Chairman of CHAT
Maternity Issues - Councillor Nicola Sinclair
Paediatric Concerns -Teacher/Early Years Education Support Officer /North- Maria Aitken
Dunbar Hospital-Ron Gunn-Vice Chair of CHAT
Town and County Hospital -Professor Iain Baikie-Vice Chair of CHAT
Ron Gunn-Short Video clip from member of public
Chair Bill Fernie to conclude our representations.

The presentations took about 40 minutes to deliver and there was virtually no discussion at that point as Bill had asked that this wait until the end as the meting was scheduled to last only 45 minutes. In the end it last longer.

The delivery from the CHAT team was forceful and backed up by facts and information. The scene was set form the outset by Bill Fernie asking that the minister suspend the board in the light of information to be revealed and handed over. CHAT had begun to place the presentations on their Facebook page with Maria Aitken's presentation is already on. Ron Gunn and Iain Baikie's will follow over the next few days and finally next week the maternity arguments will be put online with some very revealing and shocking items on maternity unknown to CHAT or the wider public until now.

Following the meeting the minister agreed to speak to the CHAT team in private and 10 minutes extended to half an hour.

To comment or bring more cases to the attention of CHAT go to the CHAT Facebook page.

CHAT is building the media campaign and keeps in close contact with other groups fighting health cuts in their areas. Do let them know if you know of others in Scotland.

CHAT Facebook HERE
Related Organisations
Related Articles
Have you had problems with healthcare? Do you want to complain, but need someone to help you? Caithness Health Action Team have organised for Patient Advice and Support Service to come to Wick (am in the Norseman hotel) and Thurso (pm in the Pentland hotel) on the 17th April. Contact: info@caithnesshealth.com Private message Caithness Health Action Team on Facebook Phone:07437340146 This service is confidential and by appointment..
A candlelit vigil in support of the hospital and staff is to be held on Thursday 26th October 2017 at the hospital - bring candles or torches. Starts at 6.30pm and will not last long.
Caithness Health Action Team (CHAT) have now put the 100 Mile Helper Kits together and wil shortly be distrubiting them to Hositals and GP practices. The 100 Mile Helper kits are good to go! First batches going to hospitals today.
Rev. John Nugent the minister at St Fergus Church handed over £794 from the Wedding Dresses display by the ladies at St Fergus Church, Wick.
The ladies of St Fergus church rallied round to help Caithness Health Action Team (CHAT) with yet another fund raiser. Each year they choose a cause to support either abroad or local This year they decide to help CHAT in their efforts to stop continued reduction in local health services by NHS Highland.
Saturday 7th October 10.30am - 3.30pm Call in to see the display and support CHAT..
Maureen and Gordon Doull from Wick have celebrated their 50th wedding anniversary at Mackays Hotel and asked their guests to make donations to Caithness Health Action Team (CHAT) as they are so concerned at what is happening to health services in Caithness. The couple handed over a £750 to Bill Fernie, chairman of CHAT and founder member Councillor Nicola Sinclair.
Caithness Health Action Team (CHAT) has gathered 2,410 postcards from members of the public protesting the centralisation of health services under NHS Highland. The postcards carry the slogan '100 miles too far' in reference to the 100 mile journey patients frequently have to travel to receive basic care.
The Convener of The Highland Council's Caithness Area Committee, Councillor David Flear, has joined the call for health bosses to consider upgrading maternity services at Caithness General Hospital. Councillor Flear intends raising the matter at the next Area Committee meeting on Monday 15 September and expects to send a firmly worded response to the Highland Acute Hospitals NHS Trust, who are currently reviewing maternity services provided in Wick as part of a Scotland-wide review.
7:00am, 8:00am, 9:00am - possibly throughout the day George Bruce Interviews on Moray Firth Radio News 12:00 Noon Demonstration Begins At Caithness General Hospital 12:01pm Toot Your Horn Campaign Begins Motorist are being asked to toot their horns as they pass the demonstration at Caithness General 12:05pm Professor Calder Team Arrives Wick Airport 12:15pm Press Conference At Wick Airport 12:40pm Professor Calder Team Arrival Expected Caithness General 1:00pm Council Press Conference At Wick Town Hall Area Convenor David Flear will lead the press conference with Jenny Spence, League of Friends, Jamie Stone MSP. George Bruce, Caithness & North Sutherland Health Forum and two mothers.