Wick event to focus on health and wellbeing services
12th October 2017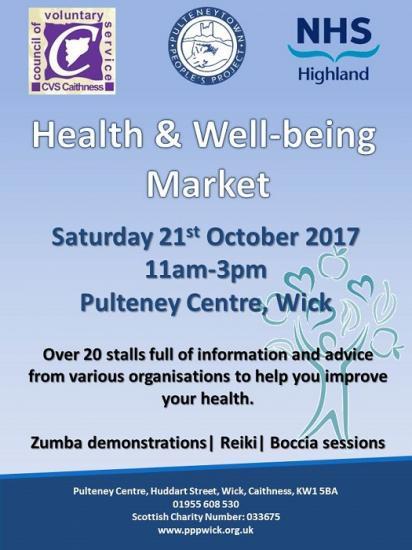 THE county's second Health and Wellbeing Market is taking place at the Pulteney Centre in Wick on Saturday, 21st October 2017.

There will be 23 stalls offering information on health and wellbeing services that can be accessed in Caithness.

The event is being organised by Caithness Health Improvement Forum with Caithness Voluntary Group (CVG),

Pulteneytown People's Project (PPP) and the NHS, and will run from 11am to 3pm.

It follows on from the first Health and Wellbeing Market which was held at the same venue in April 2016 and attended by around 170 people.

The aim is to showcase the wide range of opportunities available locally to benefit general health as well as mental, spiritual, emotional and social wellbeing.

Stallholders will include Befriending Caithness, LGOWIT, the fire and rescue service, Caithness Rural Transport, Caithness and Sutherland Women's Aid and NHS Health Improvement.

The Wick MS Therapy Centre will have information on its centre at the Braehead, Wick, and a list of conditions that the hyperbaric chamber may help with. Albyn Housing will have a stall with information on Money Matters Highland, a lottery-funded project that provides advice on how to save money online.

Inclusion Scotland will have a representative there whose key responsibility is to administer the Highland Localisation and Empowerment Project, funded by the Equality Unit at the Scottish Government. The core responsibilities are human rights and promoting a social model for disability.

Creativity In Care will be present too. It is a community interest company focusing on wellness by using the arts in a range of community learning programmes for positive dementia care and mental health recovery. Family learning programmes are also delivered. It is a partner in the Highland Mental Health and Arts Festival and works every year with Caithness Mental Health Support Group.

PPP will have information about its service assisting people with benefits and budgeting, as well as a service that it starting soon for older people in the community.

There will also be Zumba demonstrations and taster sessions in Reiki and Boccia - a game similar to bowls with soft balls for people of all abilities and suitable for those with health conditions.

Event co-ordinator Yvonne Hendry, from CVG, said: "We are hoping to build on the success of last year's event. It was really well attended and the feedback from the public and stallholders was very positive."
Related Organisations
Related Articles
Question Is it not ironic that funds are being disbursed via Scottish Government when at the same time local councils are making major cuts in third sector funding and education? --------------------------------------------------------------------- --------------------------------------------------------------------- Communities in the Highlands and Islands have been awarded more than £2 million to find new ways to improve people's lives and services. The funding will benefit 22 community and third sector groups who will use the investment to deliver innovative and long-lasting projects which tackle inequality, poverty and support inclusion in the local community.
Caithness Voluntary Group, in partnership with Pulteneytown People's Project and Thurso Community Development Trust have been awarded 183,296 to employ the four full-time development workers and a part-time co-ordinator. The 12-month project will employ, a community development worker for Wick will be employed by PPP and based at the Pulteney Centre, as will a childcare development worker.
Tuesday 23rd October, 9.30am-1pm Pulteney Centre, Wick This course will cover: Discipline and grievance procedure Understand best practice in operating disciplinary and grievance procedures The right to be accompanied Define the principles required to hold a fair disciplinary interview. Dealing with absences at work The training is suitable for line managers, committee members and directors.
Budget cuts are now hitting the voluntary third sector in Caithness and the rest of Highland. Caithness Voluntary Group is member of the Highland Third Sector Interface (HTSI) and they have been informed of a 13% cut in funding.
Check out the news at the link below http://www.caithness.org/posterads2018/summer2018news.pdf.
Check out the newsletter for all the awards. http://www.caithness.org/posterads2018/saltireawards2018.pdf.
The next Community Partnership meeting is on the 9th May from 4pm - 6pm in Castletown (venue yet to be confirmed) and all members of the public are invited to attend. This will be a workshop style event and will be of particular interest to those living and working in the Castletown area as the locality plan covering that area will be discussed in a bit of detail.
See the Spring Newsletter from the volunteering section of Caithness Voluntary Group HERE HERE HERE.
Good Governance Training will be delivered in two sessions Wednesday 9th May 7pm-8.30pm. Your members what are they?, Ever wondered why you have members and why they are there How your committee works How your group is made up.
FUNDING INFORMATION EVENT. Tuesday 24th April 10.00am-1pm Pulteney Centre, Wick.