Wedding Dresses Display Cash Handed Over To CHAT
9th October 2017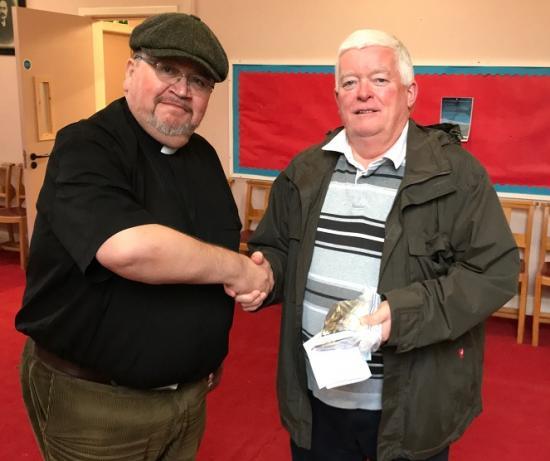 Rev. John Nugent the minister at St Fergus Church handed over £794 from the Wedding Dresses display by the ladies at St Fergus Church, Wick.

Bill Fernie, chairman of Caithness Health Action Team (CHAT) thanked the ladies who organised the display and accepted the money on behalf of CHAT. Bill said,"The generosity of Caithness people has been truly amazing and they are rallying round the campaign to fight cuts to health services in the north."

Bill spent the day at the display in St Fergus church and spoke to many of the people who attended to see the dresses and look at the many wedding photos.

Bill had many conversations bringing people up to date with what CHAT was doing and a getting a few more postcards signed to send to the First Minister. Bill said,"It was a really interesting day and I heard about the problems people were encountering with travel to the south to keep health appointments. I heard about giving birth from several generations of ladies and how they viewed the current changes in maternity services and none were happy about it. From ladies who had their children recently to grandmothers and great grand mothers there was a huge dismay in they way Caithness was being treated."

"As you might expect for a display of wedding dresses it was mainly ladies who attended but men and women alike expressed support for CHAT. A few even recalled the campaigns of the past like the North Action Group 12 years ago and the MUMS campaign before that,"

"All in all it was great o hear how support for CHAT was still growing with latest fears about Dunbar hospital in Thurso and Town and county In Wick being to the forefront."

"NHS Highland, and politicians of all levels were mentioned as people asked what were they doing about it. I pointed to our demonstrations in Thurso and Wick on 28th October. Several politicians from various parties have agreed to speak including our own local MSP"
Related Organisations
Related Articles
HUNDREDS of photographs of Wick life spanning more than half a century are to go on show during the town's gala week. They will form an exhibition called The McDonald Collection being held at the St Fergus Church Hall for one day only on Wednesday, 31st July 2019.
Operations had to be cancelled across NHS Highland because hospitals simply could not cope, new figures reveal. Data published by ISD Scotland shows that 45 operations were cancelled in May 2019 due to non-clinical reasons such as not having enough staff or unclean equipment.
Mikie Aitken , Quality Control Inspector for Subsea7 Wester Site ,recently won a thousand pounds for a safety award while working on the Equinor Snorre project to be given to a charity of his choice. He chose to donate to Caithness Health Action Team 100mile helper kits which are given to Caithness General Hospital , Community Maternity Unit who give the kits to local women that have to be quickly transferred to Raigmore maternity hospital in an emergency situation.
A visit of the Labour Party Leader in Scotland Richard Leonard MSP accompanied by Rhoda Grant MSP heard from the third sector and Caithness Health Action Team (CHAT) about problems arising to the community from changes to health provision and wide range of topics. Roger Saxon the local Labour party organiser and Alan Tait from Caithness Voluntary Group facilitated the meeting at the Pulteney Centre in Wick.
Uptake jumps to 96% as 80,000 deliveries made to parents. The new Baby Box design, created by a team of children and young people, has been unveiled.
A popular resource for pregnant women and their families has been updated to include the latest information on perinatal mental health support. A refreshed edition of Scotland's 'Ready Steady Baby' publication was launched today by Minister for Public Health Joe FitzPatrick.
With respect to the new hospital at Aviemore Dr Boyd Peters said "We have been on this journey since 2012 and the land purchase is a significant step towards securing much needed modern healthcare facilities for the population of Badenoch and Strathspey" After seven years it finally reaches the planning stage so that must mean yet another two or even three years until its on the ground and working. In Caithness redesign of health services has been going on and on for several years and recently we have the early stages of a "hub" idea being promoted.
NHS Highland's annual review has been rescheduled for Tuesday 09 April 2019. It will be held in the Centre for Health Science, Inverness with Jeane Freeman, Cabinet Secretary for Health and Sport, in attendance.
Highlands and Islands Labour MSP Rhoda Grant has raised with the First Minister why the air ambulance was not initially called when a Caithness mother went into labour at 30 weeks with twins. At First Minister's Questions today, Mrs Grant told Nicola Sturgeon the woman had bravely shared her experience of giving birth under the current maternity provisions in Caithness.
Have you had problems with healthcare? Do you want to complain, but need someone to help you? Caithness Health Action Team have organised for Patient Advice and Support Service to come to Wick (am in the Norseman hotel) and Thurso (pm in the Pentland hotel) on the 17th April. Contact: info@caithnesshealth.com Private message Caithness Health Action Team on Facebook Phone:07437340146 This service is confidential and by appointment..