Wedding Dresses Display Cash Handed Over To CHAT
9th October 2017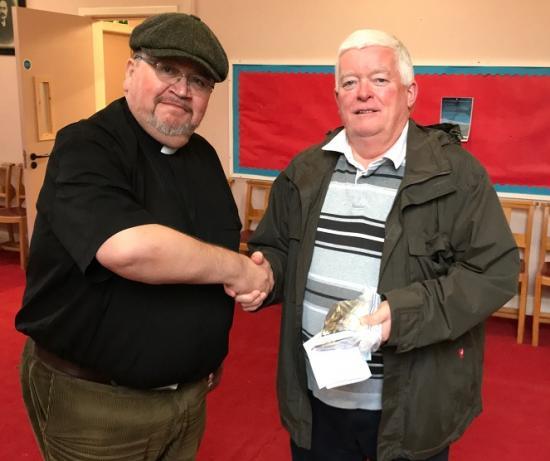 Rev. John Nugent the minister at St Fergus Church handed over £794 from the Wedding Dresses display by the ladies at St Fergus Church, Wick.

Bill Fernie, chairman of Caithness Health Action Team (CHAT) thanked the ladies who organised the display and accepted the money on behalf of CHAT. Bill said,"The generosity of Caithness people has been truly amazing and they are rallying round the campaign to fight cuts to health services in the north."

Bill spent the day at the display in St Fergus church and spoke to many of the people who attended to see the dresses and look at the many wedding photos.

Bill had many conversations bringing people up to date with what CHAT was doing and a getting a few more postcards signed to send to the First Minister. Bill said,"It was a really interesting day and I heard about the problems people were encountering with travel to the south to keep health appointments. I heard about giving birth from several generations of ladies and how they viewed the current changes in maternity services and none were happy about it. From ladies who had their children recently to grandmothers and great grand mothers there was a huge dismay in they way Caithness was being treated."

"As you might expect for a display of wedding dresses it was mainly ladies who attended but men and women alike expressed support for CHAT. A few even recalled the campaigns of the past like the North Action Group 12 years ago and the MUMS campaign before that,"

"All in all it was great o hear how support for CHAT was still growing with latest fears about Dunbar hospital in Thurso and Town and county In Wick being to the forefront."

"NHS Highland, and politicians of all levels were mentioned as people asked what were they doing about it. I pointed to our demonstrations in Thurso and Wick on 28th October. Several politicians from various parties have agreed to speak including our own local MSP"
Related Organisations
Related Articles
Have you had problems with healthcare? Do you want to complain, but need someone to help you? Caithness Health Action Team have organised for Patient Advice and Support Service to come to Wick (am in the Norseman hotel) and Thurso (pm in the Pentland hotel) on the 17th April. Contact: info@caithnesshealth.com Private message Caithness Health Action Team on Facebook Phone:07437340146 This service is confidential and by appointment..
Five members of CHAT formed the delegation to meet with the health minister Shona Robison on Wednesday 7th February 2018. The team from CHAT each took different elements of health concerns in Caithness to present to those present.
The annual display of Christmas Trees at St Fergus church, Wick by community groups has grown to its largest yet. Several groups had people on hand to explain what their groups do and what a huge variety there was even though there are many more groups out there.
A candlelit vigil in support of the hospital and staff is to be held on Thursday 26th October 2017 at the hospital - bring candles or torches. Starts at 6.30pm and will not last long.
Caithness Health Action Team (CHAT) have now put the 100 Mile Helper Kits together and wil shortly be distrubiting them to Hositals and GP practices. The 100 Mile Helper kits are good to go! First batches going to hospitals today.
The ladies of St Fergus church rallied round to help Caithness Health Action Team (CHAT) with yet another fund raiser. Each year they choose a cause to support either abroad or local This year they decide to help CHAT in their efforts to stop continued reduction in local health services by NHS Highland.
Saturday 7th October 10.30am - 3.30pm Call in to see the display and support CHAT..
Maureen and Gordon Doull from Wick have celebrated their 50th wedding anniversary at Mackays Hotel and asked their guests to make donations to Caithness Health Action Team (CHAT) as they are so concerned at what is happening to health services in Caithness. The couple handed over a £750 to Bill Fernie, chairman of CHAT and founder member Councillor Nicola Sinclair.
Caithness Health Action Team (CHAT) has gathered 2,410 postcards from members of the public protesting the centralisation of health services under NHS Highland. The postcards carry the slogan '100 miles too far' in reference to the 100 mile journey patients frequently have to travel to receive basic care.
The Convener of The Highland Council's Caithness Area Committee, Councillor David Flear, has joined the call for health bosses to consider upgrading maternity services at Caithness General Hospital. Councillor Flear intends raising the matter at the next Area Committee meeting on Monday 15 September and expects to send a firmly worded response to the Highland Acute Hospitals NHS Trust, who are currently reviewing maternity services provided in Wick as part of a Scotland-wide review.