Thurso Meeting Packs Town Hall
30th November 2003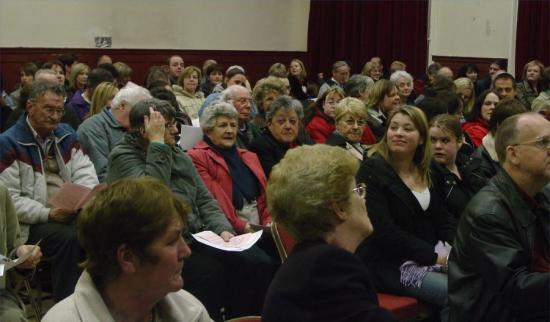 A large audience turned out for the meeting organised by the League of Friends of Caithness General Hospital. Speakers included - Jamie Stone MSP, David Flear Caithness Area Convenor, George Bruce, chair of Caithness Health Forum, and councillors Bill Fernie and Graham Smith. Councillor Donnie Mackay who has been assisting the League of Friends set up the meetings introduced Phillip Coghill a local farmer as chairman for the evening.

All speakers essentially took the same line in their speeches emphasising different points but giving a clear message that they were fully behind the local community and the League of Friends bid to ensure that Professor Calder, the Highland Health Board and the Scottish Executive are in no doubt that local services are what are wanted and not remote "Birthing Factories" as Councillor Smith termed the so called "Centre of Excellence" idea.

MSP Jamie Stone says he has invited himself to see Professor Calder as he had no invitation - a glaring omission.

Councillor Bill Fernie read out a letter of support from MSP Rob Gibson.

George Bruce for the Health Forum recalled that this is the third time that an enquiry has looked at maternity services since 1997 and asked why the local community needs to continually needs to return to fight the suggestion of downgrading.

Area Convenor David Flear is equally adamant that he intends to fight the suggestion of removal of consultant led services in Caithness and is asking for as many people as possible to contact him with letters and emails in order to present as many views as can be obtained to Professor Calder when he sees him on 15 December.

After the speakers had spoken the audience were asked to give their views. From all sides the fears were the same as in Wick two nights earlier. The dangers to mothers and babies, the geography and and strongly held perception that the north of Scotland would not be chosen as a destination by young families in the future as a place to live and work. Even people with secure jobs at Dounreay might think twice about coming to an area where maternity services were given a low priority.

Few matters could arise that could unite so many people as were in the audience in Thurso and echoing precisely that of the Wick meeting and other rural areas in Highland and other parts of Scotland. The ladies from the League of Friends have taken heart that their tentative steps into this minefield of health and national politics may prove that no matter what the outcome they have the whole-hearted support of the whole community from local politicians, health groups and the general public. To have a united front from the whole spectrum of views and political persuasion may well be needed to stand up once again to the financial and wish to change a well loved service.

But the League of Friends more used to raising funds to help the hospital seems to have tapped into the tide of public feeling. support and offers of help poured in from individuals to assist with the petitions. Almost from no where demonstrations have been set up and organised for the day of Professor Calder's visit. his apparent refusal to meet any Young Mums was met by taunts of send him to Caithness or back in an ambulance and not have him the luxury of flying in. Most folk agree that little can compare to a pregnant woman taking a three hour journey in good weather or five or six hours in bad weather to Inverness.

Buses from Thurso and many offers of cars were received and many mothers expect to be there with their prams and push chairs. The ladies of the League of Friends may not have the experience of organising such a campaign but they have the affection and full support of a community looking for a way forward to maintain their services. Hardly in recent times has any small group arisen almost overnight and taken on such a task. From seemingly nowhere they are now at the forefront to ensure that local views are not just heard in Caithness but all the way to Edinburgh. Newspaper and television coverage is growing and the Scottish Executive should be afraid - very afraid that if these ladies are taking to the streets then something better be decided that matches local aspirations.

The need to examine services is a proper function of the management process but when it comes couched in terms that almost announce that the only outcome might be a downgrading or removal of a service then is it any wonder that rural populations see it as an attack on their services rather than merely a prudent management review.

The League of Friends unaccustomed as they are to organising this type of campaign may just have stumbled on to something overlooked by everyone else - that our maternity services are one of the most valued services - although we all assumed that they would be there and suddenly that is under threat. The organisation has no funds to support this campaign and have decided that they will not accept any money at present although several groups have offered to help. But once again the Caithness community has closed ranks across all other divisions with offers of transport, photocopying, poster making and already lists of telephone numbers, email addresses and contacts are in place and growing. The SSP has collected donations and offered to pay for hire of halls from those funds.

The ladies of the League of Friends may not have the experience but they know how to organise fund-raising. The coffee morning may have become a public meeting. The sale of work poster - the campaign poster and as well as donating equipment to the maternity unit they might even end up saving the whole service for the north of Scotland. All they are asking is that folk sign their petitions, attend a meeting and write to David Flear and any other politician that individuals think might influence the outcome. As for the demonstrations on 15 December the League of Friends may yet show the politicians how to get folk behind them. In reality the ladies are leading a willing and united community from public to politicians in the area. As an organisation known for its compassion and generosity might not the powers that be pause for thought that if these mothers and grandmothers are willing to take on the establishment then they might think longer and harder about solutions.

Note Whilst spell checking this item a spelling error glared - "The League Of Fiends" - the powers that be might find that is nearer the truth than they could ever have anticipated.

Later Thoughts - Dictionary Definitions

Friend

A person whom one knows, likes, and trusts.

A person whom one knows; an acquaintance.

A person with whom one is allied in a struggle or cause; a comrade.

One who supports, sympathises with, or patronises a group, cause, or movement: friends of the clean air movement.
Fiend
Informal. One who is completely absorbed in or obsessed with a given job or pastime: a crossword-puzzle fiend.

Informal. One who is particularly adept at something: a fiend with computers.
Perhaps a new definition will be needed shortly perhaps
Informal, One who with the backing of the whole community achieves more than they or their adversaries could possibly imagine.
Or perhaps a few quotes might add weight
"Into this wild abyss the wary fiend Stood on the brink of Hell and looked a while." --Milton.
"O woman! woman! when to ill thy mind Is bent, all hell contains no fouler fiend." --Pope.
Hell hath no fury like a woman scorned
Adapted from a line in the play The Mourning Bride, by William Congreve, an English author of the late seventeenth and early eighteenth centuries. OK we know the circumstances are not what was meant in the play - but the unleashed sentiment in the context of reduced services gained over the years since the inception of the National Health Service are perhaps as meaningful and may help explain the willingness to defend vital services to women and families in our rural areas.
These literary references may seem a bit tongue on cheek but what may be presented as an improvement in services appears to be more and more looked on as a direct assault on services for women and this perhaps mangled quote may act as a metaphor for the fury off many rural communities transforming their normal indifference to much of what emanated from quangos such as Health boards and Trust Boards and their political masters.
League Of Friends or League of Fiends? One thing is clear, another sleeping giant may have just awoken. How many other League of Friends groups are already getting behind local campaigns to save their own maternity unit or other services?
Related Organisations
Related Articles
Have you had problems with healthcare? Do you want to complain, but need someone to help you? Caithness Health Action Team have organised for Patient Advice and Support Service to come to Wick (am in the Norseman hotel) and Thurso (pm in the Pentland hotel) on the 17th April. Contact: info@caithnesshealth.com Private message Caithness Health Action Team on Facebook Phone:07437340146 This service is confidential and by appointment..
Five members of CHAT formed the delegation to meet with the health minister Shona Robison on Wednesday 7th February 2018. The team from CHAT each took different elements of health concerns in Caithness to present to those present.
A candlelit vigil in support of the hospital and staff is to be held on Thursday 26th October 2017 at the hospital - bring candles or torches. Starts at 6.30pm and will not last long.
Caithness Health Action Team (CHAT) have now put the 100 Mile Helper Kits together and wil shortly be distrubiting them to Hositals and GP practices. The 100 Mile Helper kits are good to go! First batches going to hospitals today.
Rev. John Nugent the minister at St Fergus Church handed over £794 from the Wedding Dresses display by the ladies at St Fergus Church, Wick.
The ladies of St Fergus church rallied round to help Caithness Health Action Team (CHAT) with yet another fund raiser. Each year they choose a cause to support either abroad or local This year they decide to help CHAT in their efforts to stop continued reduction in local health services by NHS Highland.
Saturday 7th October 10.30am - 3.30pm Call in to see the display and support CHAT..
Maureen and Gordon Doull from Wick have celebrated their 50th wedding anniversary at Mackays Hotel and asked their guests to make donations to Caithness Health Action Team (CHAT) as they are so concerned at what is happening to health services in Caithness. The couple handed over a £750 to Bill Fernie, chairman of CHAT and founder member Councillor Nicola Sinclair.
Caithness Health Action Team (CHAT) has gathered 2,410 postcards from members of the public protesting the centralisation of health services under NHS Highland. The postcards carry the slogan '100 miles too far' in reference to the 100 mile journey patients frequently have to travel to receive basic care.
The Convener of The Highland Council's Caithness Area Committee, Councillor David Flear, has joined the call for health bosses to consider upgrading maternity services at Caithness General Hospital. Councillor Flear intends raising the matter at the next Area Committee meeting on Monday 15 September and expects to send a firmly worded response to the Highland Acute Hospitals NHS Trust, who are currently reviewing maternity services provided in Wick as part of a Scotland-wide review.