Mad Hatters Tea Party In Aid Of CHAT
13th May 2017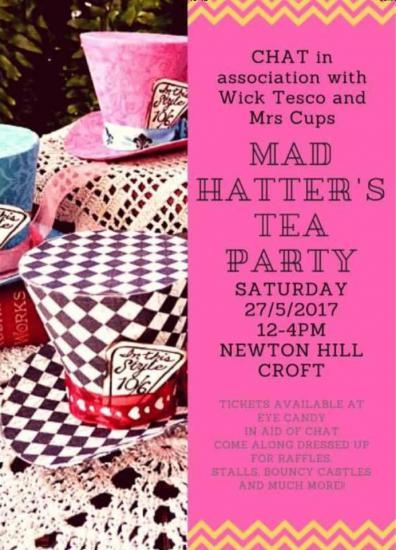 Saturday 27th May 2017.


Tickets available to Thurso and Wick Eye Candy shops.

Delighted to confirm a very exciting line-up for our Mad Hatter's Tea Party at the end of this month....

* Afternoon tea of sandwiches, scones and cakes catered by the fabulous Mrs Cups and sponsored by Tesco Wick.

* The tea party will be fancy dress (optional) and there will be prizes for the best costumes.

* 10 stalls selling local produce, crafts and gifts (full list will be announced next week) plus CHAT stall with all proceeds going to our charity.

* Bouncy castle, special Book Bug session, cupcake decorating sessions, photo booth, fairground games, raffle and more

All in the gorgeous surroundings of Newton croft, and hosted by a very special Mad Hatter....

Please come along for a fun family day out! To answer a common question, we need to control numbers so this event is tickets only, and you can buy them from Eye Candy in Wick and in Thurso. All proceeds go to CHAT and will be used to help us in our campaigning and health improvement work.

Nearly half the tickets gone already, so get them early to avoid disappointment!

See more about CHAT at https://www.facebook.com/caithnesshealth/
Related Organisations
Related Articles
Caithness Health Action Team (CHAT) has gathered 2,410 postcards from members of the public protesting the centralisation of health services under NHS Highland. The postcards carry the slogan '100 miles too far' in reference to the 100 mile journey patients frequently have to travel to receive basic care.
The Convener of The Highland Council's Caithness Area Committee, Councillor David Flear, has joined the call for health bosses to consider upgrading maternity services at Caithness General Hospital. Councillor Flear intends raising the matter at the next Area Committee meeting on Monday 15 September and expects to send a firmly worded response to the Highland Acute Hospitals NHS Trust, who are currently reviewing maternity services provided in Wick as part of a Scotland-wide review.
7:00am, 8:00am, 9:00am - possibly throughout the day George Bruce Interviews on Moray Firth Radio News 12:00 Noon Demonstration Begins At Caithness General Hospital 12:01pm Toot Your Horn Campaign Begins Motorist are being asked to toot their horns as they pass the demonstration at Caithness General 12:05pm Professor Calder Team Arrives Wick Airport 12:15pm Press Conference At Wick Airport 12:40pm Professor Calder Team Arrival Expected Caithness General 1:00pm Council Press Conference At Wick Town Hall Area Convenor David Flear will lead the press conference with Jenny Spence, League of Friends, Jamie Stone MSP. George Bruce, Caithness & North Sutherland Health Forum and two mothers.
The visit of Professor Andrew Calder to Wick on Monday 15 December had a big profile as it gained mentions on Moray Firth Radio, BBC Radio Scotland, BBC Scotland Television News. Repeat mentions on several news broadcasts are ensuring the issue is highlighted.
Tune in to Moray Firth Radio to hear George Bruce chairman of the Caithness & North Sutherland Health Forum being interviewed about the current Maternity Review to coincide with Professor Calder's visit to Caithness General Hospital. Listen on radio or on the web by going to Moray Firth Radio web site and click on Listen.
A variety of groups that involve young mothers is likely to arrive with pushchairs and prams on Monday. Several groups from around Caithness intend to be represented at the Noon Demonstration with several intending to attend both the noon and 6:00pm demos.
As local feeling continues to rise on the Maternity Services issue in Caithness confirmation has been given that a second demonstration will take place at 6:00pm at Caithness General Hospital on Monday 15th. The first demo will happen to coincide with the arrival of Professor Calder and his team as part of the review.
Posters in Caithness supporting the demonstrations at Caithness General Hospital on Monday 15 December have turned a current Television advertising campaign for flights from Inverness airport on its head. Whilst the TV ad shows how great it is that you can now fly to many places from Inverness the posters bring home the point that few in the north want the same service for delivering babies up to 130 miles away..
Caithness Area Convenor David Flear is receiving the biggest correspondence he has ever received on any topic by a huge margin. Mail is arriving every day by post and email is constantly popping in to add weight to his arguments.
Caithness Convenor David Flear will lead a Highland Council Press Conference at Wick Town Hall on Monday 15th at 1:00pm time in the Wick Town Hall. Councillor Flear will chair the briefing.