John Rosie - Obituary by Bill Mowat
11th April 2017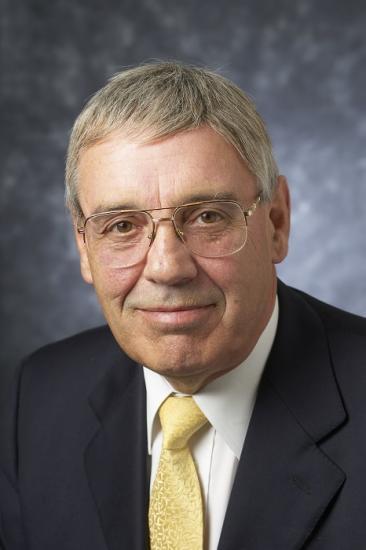 John Swanson Rosie, JP, MBE. Long-serving Councillor, born Thurso, Caithness 09.03.1937: died Wick, Caithness 29.03.2017.

With the passing of John Rosie at the age of 80 in Caithness General Hospital, Wick, on March 29th, Scotland lost one of her longest-serving elected Councillors, representing his community since 1964, and winning elections to a succession of local authorities.

John Rosie gave long service to the Highland Health Board, including a term as its Vice-Chairman, was a successful Parliamentary General Election organiser and a Trade Union shop-steward, negotiating to UK national level.

One of a family of nine, he was born in Scotland's only North Coast town where he was elected to its Town Council at the age of 29 in 1964. It was one of only two small burghs in Scotland ... with St Andrew's ... to be its own planning, building & development Authority, so he early gained expertise in a wide range of Council responsibilities.

Successively representing his home-town on Caithness County, Caithness District and the Inverness-based Highland Council, he passed away on the same day as its 2013.2017 term expired, pending the elections in May, 2017. Two of his family of three are candidates.

Over the years, energetic Mr Rosie helped numerous townspeople with Council-related problems and many were in the congregation for his funeral service at St Peter's & St Andrew's Church of Scotland on April 10th conducted by Kirk minister, the Rev. David Malcolm.

In the 1964 General Election, Liberal Mr George Mackie had gained the Caithness & Sutherland seat with a majority of under 1,300.

With the creation of the Highlands & Islands Development Board by Labour and the decision by Prime Minister Harold Wilson's Government to site Britain's then ground-breaking Prototype Fast Reactor at Dounreay in Caithness ... not at competing Winfrith in Dorset ... Labour activists in the Far North sensed that they were in with a chance of taking the seat.

John was a leading activist in the team backing young Labour candidate Robert Maclennan, and his key role was mentioned in a tribute by the now Rt. Hon. Lord Maclennan of Rogart read out at the service.

Lord Maclennan stated that he 'would remember John with warmth', recalling his early canvassing, door-to-door knocking, leafleting and posters in a well-oiled campaign.

This activity saw a Labour gain Caithness & Sutherland from the Liberal MP by the wafer-thin majority of just 64 votes. This was the Party's first win since the constituency was formed in 1918. John was a key man in the team that saw Labour retain the seat for the following five General Elections.

Leaving school at 15, John first worked on local farms but found his career of 33 years in radiological protection at the Admiralty Reactor Test Establishment ... later known as HMS Vulcan .... the Rolls Royce-operated site alongside the main civilian Dounreay site for trialling nuclear submarine reactor power-units. He retired in 1997 from Vulcan as Health Physics Supervisor.

But that gave him more time to devote to Council affairs, serving for a term from 1999 as Convener of Caithness, which involved undertaking ceremonial duties and charitable events in addition to regular Council and committee meetings.

A number of his Highland Council colleagues attended his funeral and warm tributes were paid to his long conscientious service to his community across party divides.

Highland Council leader Councillor Margaret Davidson said: 'John was an energetic man. He understood his communities and their strong sense of identity. He was a terrific champion for Thurso and Caithness'.

Present Caithness civic leader Councillor Gillian Coghill said : 'John was a highly effective Councillor, who always stood up for the people he represented. He always had something interesting to say and his excellent debating skills, often laced with a bit of humour, helped him win many arguments and causes'.

John met his future wife Evelyn (nee Budge) at a country dance at Janetstown, near Thurso. The couple had 61 years of married life together.

Out-with local and national politics, John was a keen amateur footballer with Thurso Pentland FC in his young days.

He was a fan of Scottish and Irish folk tunes and had a life-long love of classical music.

He is survived by his sister Isobel as well as by Evelyn.

The Rosies have three children; Mrs Deirdre Mackay has represented both Wick and East Sutherland on the Highland Council for almost two decades and is standing again for Labour in next month's election.

Also standing for the Thurso area, but for the SNP, is his youngest son Karl, who is constituency manager for present Caithness, Sutherland & Easter Ross Westminster representative Dr Paul Monaghan, MP.

James, who is a senior manager on Conoco Philips Britannia Field in the North Sea, is the only sibling not involved in day-to-day politics.

John Rosie leaves seven grand-children and five great-grand-children.