CHAT calls for radical infrastructure improvements in wake of major report into Caithness maternity services
18th November 2016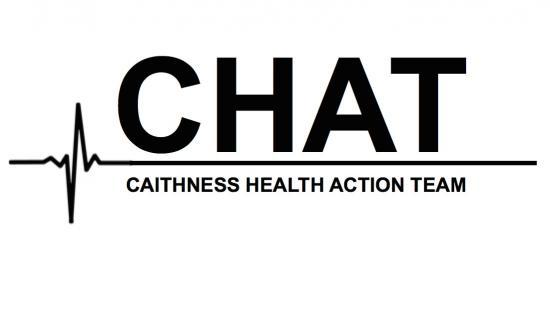 The long-awaited report of Public Health Scotland (PHS) into maternity services at Caithness General Hospital was launched today, and recommends that the Henderson Maternity Unit moves to a midwife led model (CMU). The Report concludes that Caithness does not have the population to support an obstetrician, and that the presence of specialists without the backup of intensive care facilities or a paediatrician creates unnecessary risk factors for patients.

The Report will now be discussed by the NHS Highland Board, and if as expected the Board decides to accept the findings of the Report, Caithness General Hospital would lose its consultants and no longer be permitted to perform elective or emergency caesarean sections. It is expected however that first time mothers would once again be allowed to deliver in Caithness, provided their pregnancy remains low risk.

Caithness Health Action Team has expressed numerous concerns over the proposed new maternity model, believing that patient safety will be compromised unless transport services and emergency obstetric cover are greatly enhanced. Going forward, CHAT will urgently seek answers to the following questions:

If we are to lose our obstetricians, what happens in the event of an emergency caesarean section or cord prolapse, when there is no time to transfer the patient to Inverness?

What happens when a low risk, 'green pathway' pregnancy suddenly takes a turn for the worse and becomes a high-risk labour - who will be there to intervene?

With the Scottish Ambulance Service already under major pressure from the increased number of patient transfers, how will they find the resources to provide more ambulances?

With labouring women requiring fixed wing transportation, do we have sufficient provision?

What happens in the event of a road closure due to accident or adverse weather?

Without consultants, do we lose our obstetrics and gynaecology services?

What impact will the falling birth rate have on midwife recruitment and skills?
Nicola Sinclair said: "This Report raises as many questions as it does answers. We have already submitted FOI requests to NHS Highland and SAS to gain accurate statistics on key issues such as the frequency of patient transfers and average wait times for an ambulance. We are researching creative care models that have been successful in the past, such as consultants running local 'hubs' and maintaining their skills through secondments.
"Island health boards have been particularly innovative in finding solutions to the challenges of rural services, and we're contacting them for ideas and inspiration. Caithness has an island postcode after all, so it's not unreasonable to explore whether we could be treated as an island community and shape services that meet our unique challenges.
"If the NHS Highland Board accepts the PHS recommendations, we would expect them to move to a full public consultation, and CHAT has been invited to provide input on what form that consultation should take. As ever, we will advocate for Caithness patients and make sure their voices are heard."
CHAT's Facebook page can be found
here
Related Organisations
Related Articles
Have you had problems with healthcare? Do you want to complain, but need someone to help you? Caithness Health Action Team have organised for Patient Advice and Support Service to come to Wick (am in the Norseman hotel) and Thurso (pm in the Pentland hotel) on the 17th April. Contact: info@caithnesshealth.com Private message Caithness Health Action Team on Facebook Phone:07437340146 This service is confidential and by appointment..
Five members of CHAT formed the delegation to meet with the health minister Shona Robison on Wednesday 7th February 2018. The team from CHAT each took different elements of health concerns in Caithness to present to those present.
A candlelit vigil in support of the hospital and staff is to be held on Thursday 26th October 2017 at the hospital - bring candles or torches. Starts at 6.30pm and will not last long.
Caithness Health Action Team (CHAT) have now put the 100 Mile Helper Kits together and wil shortly be distrubiting them to Hositals and GP practices. The 100 Mile Helper kits are good to go! First batches going to hospitals today.
Rev. John Nugent the minister at St Fergus Church handed over £794 from the Wedding Dresses display by the ladies at St Fergus Church, Wick.
The ladies of St Fergus church rallied round to help Caithness Health Action Team (CHAT) with yet another fund raiser. Each year they choose a cause to support either abroad or local This year they decide to help CHAT in their efforts to stop continued reduction in local health services by NHS Highland.
Saturday 7th October 10.30am - 3.30pm Call in to see the display and support CHAT..
Maureen and Gordon Doull from Wick have celebrated their 50th wedding anniversary at Mackays Hotel and asked their guests to make donations to Caithness Health Action Team (CHAT) as they are so concerned at what is happening to health services in Caithness. The couple handed over a £750 to Bill Fernie, chairman of CHAT and founder member Councillor Nicola Sinclair.
Caithness Health Action Team (CHAT) has gathered 2,410 postcards from members of the public protesting the centralisation of health services under NHS Highland. The postcards carry the slogan '100 miles too far' in reference to the 100 mile journey patients frequently have to travel to receive basic care.
The Convener of The Highland Council's Caithness Area Committee, Councillor David Flear, has joined the call for health bosses to consider upgrading maternity services at Caithness General Hospital. Councillor Flear intends raising the matter at the next Area Committee meeting on Monday 15 September and expects to send a firmly worded response to the Highland Acute Hospitals NHS Trust, who are currently reviewing maternity services provided in Wick as part of a Scotland-wide review.