CHAT calls for radical infrastructure improvements in wake of major report into Caithness maternity services
18th November 2016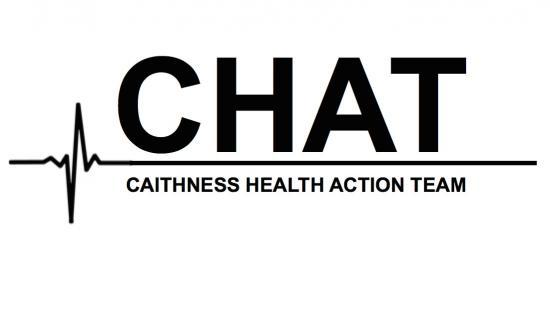 The long-awaited report of Public Health Scotland (PHS) into maternity services at Caithness General Hospital was launched today, and recommends that the Henderson Maternity Unit moves to a midwife led model (CMU). The Report concludes that Caithness does not have the population to support an obstetrician, and that the presence of specialists without the backup of intensive care facilities or a paediatrician creates unnecessary risk factors for patients.

The Report will now be discussed by the NHS Highland Board, and if as expected the Board decides to accept the findings of the Report, Caithness General Hospital would lose its consultants and no longer be permitted to perform elective or emergency caesarean sections. It is expected however that first time mothers would once again be allowed to deliver in Caithness, provided their pregnancy remains low risk.

Caithness Health Action Team has expressed numerous concerns over the proposed new maternity model, believing that patient safety will be compromised unless transport services and emergency obstetric cover are greatly enhanced. Going forward, CHAT will urgently seek answers to the following questions:

If we are to lose our obstetricians, what happens in the event of an emergency caesarean section or cord prolapse, when there is no time to transfer the patient to Inverness?

What happens when a low risk, 'green pathway' pregnancy suddenly takes a turn for the worse and becomes a high-risk labour - who will be there to intervene?

With the Scottish Ambulance Service already under major pressure from the increased number of patient transfers, how will they find the resources to provide more ambulances?

With labouring women requiring fixed wing transportation, do we have sufficient provision?

What happens in the event of a road closure due to accident or adverse weather?

Without consultants, do we lose our obstetrics and gynaecology services?

What impact will the falling birth rate have on midwife recruitment and skills?
Nicola Sinclair said: "This Report raises as many questions as it does answers. We have already submitted FOI requests to NHS Highland and SAS to gain accurate statistics on key issues such as the frequency of patient transfers and average wait times for an ambulance. We are researching creative care models that have been successful in the past, such as consultants running local 'hubs' and maintaining their skills through secondments.
"Island health boards have been particularly innovative in finding solutions to the challenges of rural services, and we're contacting them for ideas and inspiration. Caithness has an island postcode after all, so it's not unreasonable to explore whether we could be treated as an island community and shape services that meet our unique challenges.
"If the NHS Highland Board accepts the PHS recommendations, we would expect them to move to a full public consultation, and CHAT has been invited to provide input on what form that consultation should take. As ever, we will advocate for Caithness patients and make sure their voices are heard."
CHAT's Facebook page can be found
here
Related Organisations
Related Articles
When Bruce de Wert of Georgesons Solicitors heard of the distress of new Mums having to drive back from Inverness with their newborn in danger, he knew he had to do something. The problem is that newborns cannot sit in car seats without compressing their lungs and it is a long way from Inverness to Caithness! And, so, he announced that this year the charity for Wills Week would be CHAT who provide lie flat car seats for for newborn babies.
On Friday 18th October four of the CHAT's team visited the new Balfour Hospital in Kirkwall, Orkney. The main purpose of the visit was partly to see then hospital but in particular how maternity services work there.
Operations had to be cancelled across NHS Highland because hospitals simply could not cope, new figures reveal. Data published by ISD Scotland shows that 45 operations were cancelled in May 2019 due to non-clinical reasons such as not having enough staff or unclean equipment.
Mikie Aitken , Quality Control Inspector for Subsea7 Wester Site ,recently won a thousand pounds for a safety award while working on the Equinor Snorre project to be given to a charity of his choice. He chose to donate to Caithness Health Action Team 100mile helper kits which are given to Caithness General Hospital , Community Maternity Unit who give the kits to local women that have to be quickly transferred to Raigmore maternity hospital in an emergency situation.
A visit of the Labour Party Leader in Scotland Richard Leonard MSP accompanied by Rhoda Grant MSP heard from the third sector and Caithness Health Action Team (CHAT) about problems arising to the community from changes to health provision and wide range of topics. Roger Saxon the local Labour party organiser and Alan Tait from Caithness Voluntary Group facilitated the meeting at the Pulteney Centre in Wick.
Uptake jumps to 96% as 80,000 deliveries made to parents. The new Baby Box design, created by a team of children and young people, has been unveiled.
A popular resource for pregnant women and their families has been updated to include the latest information on perinatal mental health support. A refreshed edition of Scotland's 'Ready Steady Baby' publication was launched today by Minister for Public Health Joe FitzPatrick.
With respect to the new hospital at Aviemore Dr Boyd Peters said "We have been on this journey since 2012 and the land purchase is a significant step towards securing much needed modern healthcare facilities for the population of Badenoch and Strathspey" After seven years it finally reaches the planning stage so that must mean yet another two or even three years until its on the ground and working. In Caithness redesign of health services has been going on and on for several years and recently we have the early stages of a "hub" idea being promoted.
NHS Highland's annual review has been rescheduled for Tuesday 09 April 2019. It will be held in the Centre for Health Science, Inverness with Jeane Freeman, Cabinet Secretary for Health and Sport, in attendance.
Highlands and Islands Labour MSP Rhoda Grant has raised with the First Minister why the air ambulance was not initially called when a Caithness mother went into labour at 30 weeks with twins. At First Minister's Questions today, Mrs Grant told Nicola Sturgeon the woman had bravely shared her experience of giving birth under the current maternity provisions in Caithness.