PIPE BAND WEEK DRAWS TO A DAMP CLOSE
11th July 2016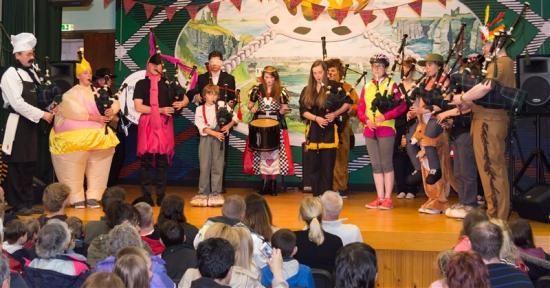 Wick's Pipe Band Week finished on a rather damp note on Saturday. Rain had threatened all day and finally came around teatime and continued relentlessly.

Band Secretary, John Bogle said "At 6.45pm there was no let up in the rain so we made the decision to transfer our Fun Night, when the pipe band appears in fancy dress, to the Pipe Band Hall. It was such a horrible night that I thought we would be lucky if 20 people appeared at the hall, however they just kept coming and coming, we have 100 chairs in the hall and put every one out but still more folk came and were standing at both doors. The show went ahead in the comfort of the hall and was much appreciated, however our takings were almost £1,000 down on last year's Fun Night. Overall we raised just over £4,200 for the week"

Meanwhile the pipe band's weekly Scottish Variety Shows in the Pipe Band Hall continue every Wednesday night during July and August, the band will also be parading in the Market Square each Saturday night in July and August with the exception of Wick's Gala Night.

The band are looking forward to the visit of their friends the Highland Pipes and Drums of Waldsee for the start of Wick Gala later this month. The two bands will perform in the Market Square on Friday 22nd July and then jointly lead the Gala procession on Saturday 23rd July.