Caithness Health Area Team - CHAT - New Group To Lobby On Caithness Health Matters
17th May 2016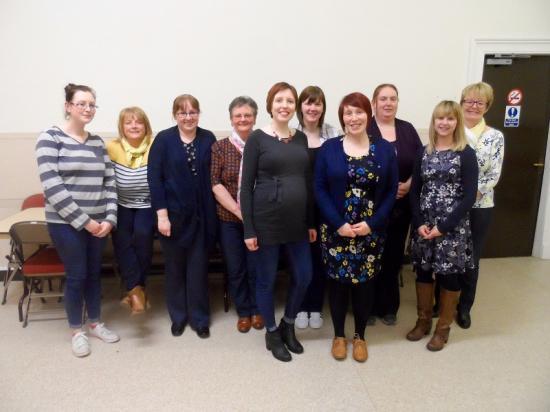 Maternity Unit In Crisis

Consultants - Too Many Locums

A new local lobbying group "CHAT" Caithness Health Action Team has been formed by a group of local Caithness people concerned about a variety of matters affecting health services in Caithness. These vary from Maternity where many more mothers in recent times are being sent to Raigmore hospital in Inverness, Lack of consultants, Locum cover, Lack of GP's.

The group have held meetings to set up the group and are currently forming a list of aims and objectives. Many of you will recall the campaigns to save the maternity unit from being downgraded the last of which was run by North Action Group chaired by the late George Bruce. That campaign last almost two years and in the end was successful in retaining a consultant led maternity unit. What it showed was that it takes a huge force of people to prevent loss of services. People in Caithness rallied in huge numbers at that time. Money was raised, MSP's were lobbied, The group went to Edinburgh. The group went to Inverness to sit in on Board meetings of NHS Highland. Media was sent out views, stories and more. CHAT will form its own ideas and is already on its way. JOIN US.

The new group CHAT will have wider remit to address several areas of concern to the general public. A high percentage of pregnant ladies and mothers have already joined forces with other interested local people.

A web site has been set up www.caithnesshealth.org/ where information is being posted. If you would like to help or join the group even just to get emails on progress then take look at the new web site. There is also a Facebook page

The group would be interested to hear from you if you have had any problems with health services in Caithness. Also any good stories would be interesting as the group are not about negativity but hope to see what can be done to protect and improve health services.

The redesign of services has been going for some time at Caithness General. Do you think this has made for improvements in your services?

You can leave comments on the web site.

Anyone is welcome to join the group. So far meetings to set the group up have been held in Wick but they may be held in Thurso also as things move on.

Please "LIKE" The Facebook page.

Men should get involved - its your family mother, wife and children and of course yourself - everyone.

PHOTO
Photographer - Bill Fernie
A small group who were at the first meeting in Wick. - Numbers have already quadrupled and rising fast.
Related Organisations
Related Articles
On Friday 18th October four of the CHAT's team visited the new Balfour Hospital in Kirkwall, Orkney. The main purpose of the visit was partly to see then hospital but in particular how maternity services work there.
Operations had to be cancelled across NHS Highland because hospitals simply could not cope, new figures reveal. Data published by ISD Scotland shows that 45 operations were cancelled in May 2019 due to non-clinical reasons such as not having enough staff or unclean equipment.
Mikie Aitken , Quality Control Inspector for Subsea7 Wester Site ,recently won a thousand pounds for a safety award while working on the Equinor Snorre project to be given to a charity of his choice. He chose to donate to Caithness Health Action Team 100mile helper kits which are given to Caithness General Hospital , Community Maternity Unit who give the kits to local women that have to be quickly transferred to Raigmore maternity hospital in an emergency situation.
A visit of the Labour Party Leader in Scotland Richard Leonard MSP accompanied by Rhoda Grant MSP heard from the third sector and Caithness Health Action Team (CHAT) about problems arising to the community from changes to health provision and wide range of topics. Roger Saxon the local Labour party organiser and Alan Tait from Caithness Voluntary Group facilitated the meeting at the Pulteney Centre in Wick.
Uptake jumps to 96% as 80,000 deliveries made to parents. The new Baby Box design, created by a team of children and young people, has been unveiled.
A popular resource for pregnant women and their families has been updated to include the latest information on perinatal mental health support. A refreshed edition of Scotland's 'Ready Steady Baby' publication was launched today by Minister for Public Health Joe FitzPatrick.
With respect to the new hospital at Aviemore Dr Boyd Peters said "We have been on this journey since 2012 and the land purchase is a significant step towards securing much needed modern healthcare facilities for the population of Badenoch and Strathspey" After seven years it finally reaches the planning stage so that must mean yet another two or even three years until its on the ground and working. In Caithness redesign of health services has been going on and on for several years and recently we have the early stages of a "hub" idea being promoted.
NHS Highland's annual review has been rescheduled for Tuesday 09 April 2019. It will be held in the Centre for Health Science, Inverness with Jeane Freeman, Cabinet Secretary for Health and Sport, in attendance.
Highlands and Islands Labour MSP Rhoda Grant has raised with the First Minister why the air ambulance was not initially called when a Caithness mother went into labour at 30 weeks with twins. At First Minister's Questions today, Mrs Grant told Nicola Sturgeon the woman had bravely shared her experience of giving birth under the current maternity provisions in Caithness.
Have you had problems with healthcare? Do you want to complain, but need someone to help you? Caithness Health Action Team have organised for Patient Advice and Support Service to come to Wick (am in the Norseman hotel) and Thurso (pm in the Pentland hotel) on the 17th April. Contact: info@caithnesshealth.com Private message Caithness Health Action Team on Facebook Phone:07437340146 This service is confidential and by appointment..