Caithness Health Area Team - CHAT - New Group To Lobby On Caithness Health Matters
17th May 2016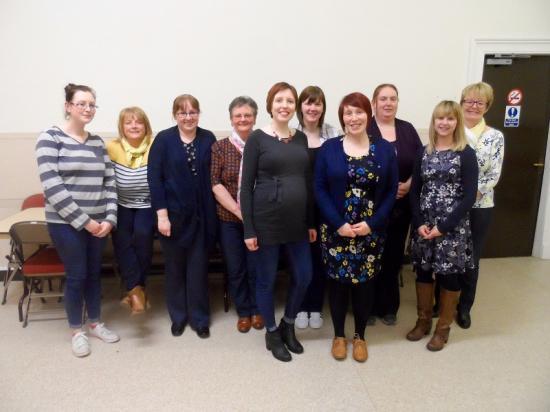 Maternity Unit In Crisis

Consultants - Too Many Locums

A new local lobbying group "CHAT" Caithness Health Action Team has been formed by a group of local Caithness people concerned about a variety of matters affecting health services in Caithness. These vary from Maternity where many more mothers in recent times are being sent to Raigmore hospital in Inverness, Lack of consultants, Locum cover, Lack of GP's.

The group have held meetings to set up the group and are currently forming a list of aims and objectives. Many of you will recall the campaigns to save the maternity unit from being downgraded the last of which was run by North Action Group chaired by the late George Bruce. That campaign last almost two years and in the end was successful in retaining a consultant led maternity unit. What it showed was that it takes a huge force of people to prevent loss of services. People in Caithness rallied in huge numbers at that time. Money was raised, MSP's were lobbied, The group went to Edinburgh. The group went to Inverness to sit in on Board meetings of NHS Highland. Media was sent out views, stories and more. CHAT will form its own ideas and is already on its way. JOIN US.

The new group CHAT will have wider remit to address several areas of concern to the general public. A high percentage of pregnant ladies and mothers have already joined forces with other interested local people.

A web site has been set up www.caithnesshealth.org/ where information is being posted. If you would like to help or join the group even just to get emails on progress then take look at the new web site. There is also a Facebook page

The group would be interested to hear from you if you have had any problems with health services in Caithness. Also any good stories would be interesting as the group are not about negativity but hope to see what can be done to protect and improve health services.

The redesign of services has been going for some time at Caithness General. Do you think this has made for improvements in your services?

You can leave comments on the web site.

Anyone is welcome to join the group. So far meetings to set the group up have been held in Wick but they may be held in Thurso also as things move on.

Please "LIKE" The Facebook page.

Men should get involved - its your family mother, wife and children and of course yourself - everyone.

PHOTO
Photographer - Bill Fernie
A small group who were at the first meeting in Wick. - Numbers have already quadrupled and rising fast.
Related Organisations
Related Articles
Have you had problems with healthcare? Do you want to complain, but need someone to help you? Caithness Health Action Team have organised for Patient Advice and Support Service to come to Wick (am in the Norseman hotel) and Thurso (pm in the Pentland hotel) on the 17th April. Contact: info@caithnesshealth.com Private message Caithness Health Action Team on Facebook Phone:07437340146 This service is confidential and by appointment..
Five members of CHAT formed the delegation to meet with the health minister Shona Robison on Wednesday 7th February 2018. The team from CHAT each took different elements of health concerns in Caithness to present to those present.
A candlelit vigil in support of the hospital and staff is to be held on Thursday 26th October 2017 at the hospital - bring candles or torches. Starts at 6.30pm and will not last long.
Caithness Health Action Team (CHAT) have now put the 100 Mile Helper Kits together and wil shortly be distrubiting them to Hositals and GP practices. The 100 Mile Helper kits are good to go! First batches going to hospitals today.
Rev. John Nugent the minister at St Fergus Church handed over £794 from the Wedding Dresses display by the ladies at St Fergus Church, Wick.
The ladies of St Fergus church rallied round to help Caithness Health Action Team (CHAT) with yet another fund raiser. Each year they choose a cause to support either abroad or local This year they decide to help CHAT in their efforts to stop continued reduction in local health services by NHS Highland.
Saturday 7th October 10.30am - 3.30pm Call in to see the display and support CHAT..
Maureen and Gordon Doull from Wick have celebrated their 50th wedding anniversary at Mackays Hotel and asked their guests to make donations to Caithness Health Action Team (CHAT) as they are so concerned at what is happening to health services in Caithness. The couple handed over a £750 to Bill Fernie, chairman of CHAT and founder member Councillor Nicola Sinclair.
Caithness Health Action Team (CHAT) has gathered 2,410 postcards from members of the public protesting the centralisation of health services under NHS Highland. The postcards carry the slogan '100 miles too far' in reference to the 100 mile journey patients frequently have to travel to receive basic care.
The Convener of The Highland Council's Caithness Area Committee, Councillor David Flear, has joined the call for health bosses to consider upgrading maternity services at Caithness General Hospital. Councillor Flear intends raising the matter at the next Area Committee meeting on Monday 15 September and expects to send a firmly worded response to the Highland Acute Hospitals NHS Trust, who are currently reviewing maternity services provided in Wick as part of a Scotland-wide review.