Sun or Hail - Litter Pickers Prevail - Melvich
29th April 2016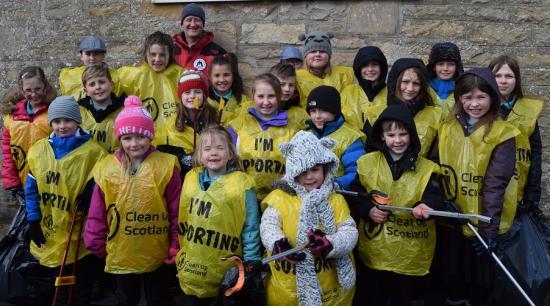 Just less than a week separated Halkirk and Melvich Primary School's village litter picks but the weather couldn't have been more different. Both village litter picks were undertaken as part of the schools Eco-studies programme and registered with the Keep Scotland Beautiful campaign and each event received assistance from The Highland Council's local Countryside Ranger Paul Castle.

Halkirk Primary P4-5 class, along with teacher Mrs Castle and several parent helpers embarked on their litter picking duties in glorious sunshine. Several areas of the village were targeted and all the litter removed.

Melvich Primary School P1-7 classes including Miss Mackay and Miss MacLeod, bravely undertook their village litter pick in strong, north westerly winds, including several hail and sleet showers thrown in for good measure. The main road area right up to the village hall was thoroughly cleaned by the intrepid litter-busters.

Ranger Paul Castle said: "Both schools did a superb job in clearing away any litter which was previously making each village look a little untidy. All the kids did very well, particularly in Melvich with such challenging weather conditions and everyone will thank both schools for their great efforts."
Related Organisations
Related Articles
See poster for details and how to book..
Events set out reasons to support UNESCO World Heritage Site Status for The Flow Country. TV historian and archaeologist Neil Oliver and geology's 'rock star' Professor Iain Stewart will be joined by UNESCO expert Professor Barry Gilbertson in a series of talks in the Highlands this summer that answer the question Why make The Flow Country a World Heritage Site? The 'Full Flow' events, which will take place in Lairg, Thurso and Inverness on 5, 6, and 7 July respectively, invite audiences to hear about the environmental and cultural importance of The Flow Country in Sutherland and Caithness, addressing Scotland's climate emergency, the need to protect the spectacular beauty and wildlife of the area's unique habitat and the part it plays in the lives of people who live here.
See the poster. School's Out activities online now http://www.myhighlife.co.uk/sap/.
A walk with the Rangers to see the village. See poster for details and how to book.
See poster for a number of events from the Ranger service..
Enjoy a gorgeous spring-time walk up the Dunbeath Strath. Follow the river through the hazel & birch woods and up onto Cnoc na Maranaich to take in amazing views.
So what do you do as a family in the dark evenings? Well here is an unusual activity night organised by the Highland Rangers that families can enjoy together. Join the rangers for a family event in the dark at Dunnet Bay.