Caithness Big Band Swings For Heart Support Group
14th November 2015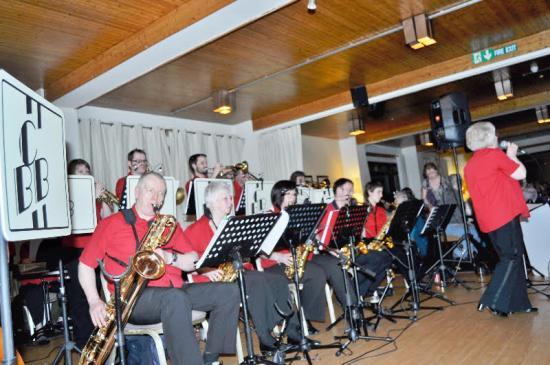 LOOK OUT your dancing shoes!...the Caithness Big Band is swinging into town next week.

The musicians are again playing for the Caithness Heart Support Group, at Mackays Hotel, Wick, and it promises to be quite a night.

The guys will be taking the stage next week and there will be a guest appearance by four of the county's 'Strictly' dancers, certain to win your unanimous vote.

The Big Band sound with vocalists, raises the roof at the hotel's ballroom from 7.30pm on Friday, 20th November 2015. Tea and coffee will be served and there will also be a raffle.

As usual, proceeds from the evening will go towards to providing medical equipment for the county's GP practices or local hospitals.

Tickets priced £6, are available from heart support group secretary, Marge Donaldson (tel. 605545) but can also be purchased from the hotel or at the door, on the night.
Related Organisations
Related Articles
Caithness Heart Support Group handed over the latest equipment it has funded, to the medical practices at Wick GP surgeries. Accepting an ECG machine from group member Janice Macgregor (right front) is Pearson practice nurse Shirley Macleod.
THE renovated croft house at the top of Newtonhill will be the focus for an illustrated talk by volunteers who are hosting it on behalf of Caithness Heart Support Group. The historic croft house dates back to the 18th century.
CAITHNESS Heart Support group recently bade a fond farewell to its patron Miss Anne Dunnett who retired from public life recently. The group was only one of several local organisations Miss Dunnett was involved in, not least as the county's Lord Lieutenant.
THE Thurso and Halkirk joint GP practice was delighted to receive much-needed replacement items for the surgery. An examination couch, heavy-duty, electronic scales and four pulse oxometers, were funded by Caithness Heart Support Group.
MOST of us enjoy a good story and here's an opportunity to hear a few of them. Caithness Heart Support Group's latest speaker is Eric Farquhar who will be delivering a selection of fascinating tales at the Norseman Hotel, Wick on Wednesday night - 4th November 2015 Group press officer Noel Donaldson said: "Eric has a great way of delivering these stories and I am sure it will be an entertaining evening." The story-telling starts at 7.30 pm in the Norseman's Heron Room.
THE Town and County Hospital's Newton Wing, at Wick, now has an ECG facility which will enable patients to have their hearts checked on-the-spot, without having to visit the town's Caithness General Hospital. The hi-tech box was funded by Caithness Heart Support Group and handed over, recently.
CAITHNESS Heart Support Group handed over the latest items of medical equipment it has funded. Wick medical centre's Riverview Practice received an ECG machine and the Pearson practice, a blood pressure monitor and a pulse oximeter.
CAITHNESS Heart Support Group was praised for its role in advising people on the lifestyle changes which could pre-empt heart attacks, as well as supporting them, before and after their operations. The warm tribute, paid at the group's AGM, came from the county's Lord Lieutenant Anne Dunnett.
CAITHNESS Heart Support Group is hosting a major awareness event aimed at helping people to maintain and improve their health. Arranged on a drop-in basis, at the Pentland Hotel, Thurso, it will feature six organisations, the Caithness Diabetes Group, Wick Wheezers, the community stroke services of Chest Heart & Stroke Scotland, North Highland Cancer Support, Befriending Caithness, and Caithness Deaf Centre.
Caithness Heart Support Group's funds received a welcome boost, recently, in the shape of this handsome cheque for £1,386 from the two practices at the Wick medical centre. The cash represented the proceeds from fundraisers organised by the staff each year, for local charities.