Telling tales in an entertaining way
1st November 2015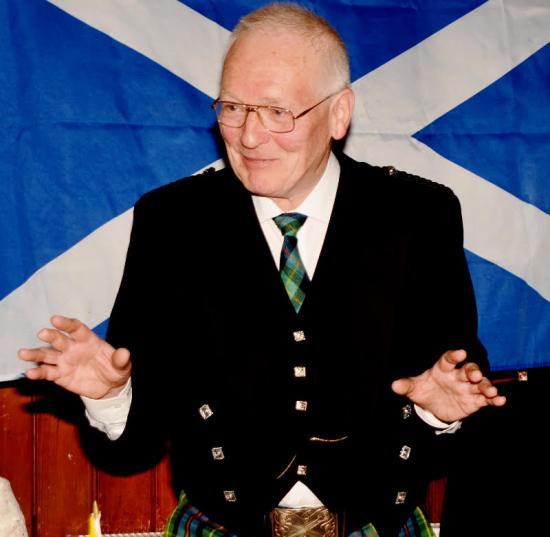 MOST of us enjoy a good story and here's an opportunity to hear a few of them.

Caithness Heart Support Group's latest speaker is Eric Farquhar who will be delivering a selection of fascinating tales at the Norseman Hotel, Wick on Wednesday night - 4th November 2015

Group press officer Noel Donaldson said: "Eric has a great way of delivering these stories and I am sure it will be an entertaining evening."

The story-telling starts at 7.30 pm in the Norseman's Heron Room. Tea and shortbread will be served. Admission is £3 and, in keeping will all the heart support group's fundraisers, the proceeds will go towards financing an item of medical equipment for one of the local GP practices or Caithness General Hospital.

PHOTO
Eric Farquhar in fine form at another public speaking occasion - a local Burns Supper.
Related Organisations
Related Articles
CAITHNESS Heart Support group recently bade a fond farewell to its patron Miss Anne Dunnett who retired from public life recently. The group was only one of several local organisations Miss Dunnett was involved in, not least as the county's Lord Lieutenant.
THE Thurso and Halkirk joint GP practice was delighted to receive much-needed replacement items for the surgery. An examination couch, heavy-duty, electronic scales and four pulse oxometers, were funded by Caithness Heart Support Group.
LOOK OUT your dancing shoes!...the Caithness Big Band is swinging into town next week. The musicians are again playing for the Caithness Heart Support Group, at Mackays Hotel, Wick, and it promises to be quite a night.
THE Town and County Hospital's Newton Wing, at Wick, now has an ECG facility which will enable patients to have their hearts checked on-the-spot, without having to visit the town's Caithness General Hospital. The hi-tech box was funded by Caithness Heart Support Group and handed over, recently.
CAITHNESS Heart Support Group handed over the latest items of medical equipment it has funded. Wick medical centre's Riverview Practice received an ECG machine and the Pearson practice, a blood pressure monitor and a pulse oximeter.
CAITHNESS Heart Support Group was praised for its role in advising people on the lifestyle changes which could pre-empt heart attacks, as well as supporting them, before and after their operations. The warm tribute, paid at the group's AGM, came from the county's Lord Lieutenant Anne Dunnett.
CAITHNESS Heart Support Group is hosting a major awareness event aimed at helping people to maintain and improve their health. Arranged on a drop-in basis, at the Pentland Hotel, Thurso, it will feature six organisations, the Caithness Diabetes Group, Wick Wheezers, the community stroke services of Chest Heart & Stroke Scotland, North Highland Cancer Support, Befriending Caithness, and Caithness Deaf Centre.
Caithness Heart Support Group's funds received a welcome boost, recently, in the shape of this handsome cheque for £1,386 from the two practices at the Wick medical centre. The cash represented the proceeds from fundraisers organised by the staff each year, for local charities.
Dr Anna Seborova tests one of three, padded, phlebotomy chairs presented to Thurso and Halkirk medical practice, by Caithness Heart Support Group. In addition, a mobile drip stand and an emergency first aid/responder bag were handed over.
What do the accordion, the coffee cup and a funny Christmas hat have in common? The answer is a coffee and carols session at the Norseman Hotel on Saturday, in aid of Caithness Heart Support Group. I'll be playing the carols and other festive favourites from 10am-noon so if you fancy a cuppa and a 'bickie', why not have a break from your shopping and take the weight off your feet for a mere £2.