Caithness Heart Support Group Praised At 2015 AGM
29th May 2015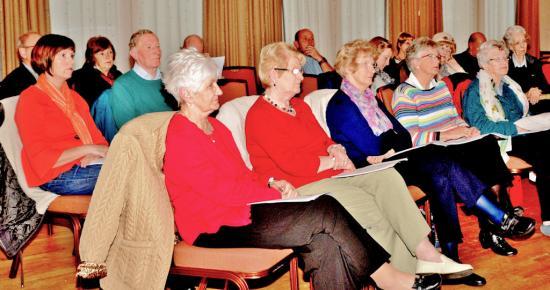 CAITHNESS Heart Support Group was praised for its role in advising people on the lifestyle changes which could pre-empt heart attacks, as well as supporting them, before and after their operations.

The warm tribute, paid at the group's AGM, came from the county's Lord Lieutenant Anne Dunnett. Miss Dunnett said that some of the group's members were well-placed to relate to heart attacks and operations and went on to highlight the importance of heading off problems.

She told the group and its supporters at Mackay's Hotel, recently: "I think that it is, possibly, more important than after-care, but you do both and I commend you for it." The group had public displays and distributes leaflets, during the year and also organised a regular, keep-fit class.

Earlier, Miss Dunnett described it as "an honour" to be patron of what she termed "this very, very, hard-working group".
She went on: "I don't know where they get all their energy and ideas from, but they do us proud. I don't know of any other group which devotes so much time and effort to its fundraising and caring element. They are never-ending in their efforts, particularly as some of their supporters are involved in other organisations, so we are very fortunate to have such a great team. However, this group would be nothing without its members because if you don't turn up, there would be no point in the office bearers being here."

Miss Dunnett also paid tribute to the staff of the Royal Bank's Wick branch whose "extra help" was greatly appreciated.
Earlier, group chairman Ernie Ross was delighted to report an exceptional year on the fundraising front. The cost of items supplied to the county's GP practices and Caithness General Hospital, amounted to a record-breaking £15,000. The gratifying total included £7,000 for the latest cardiac monitor presented to the hospital.

Mr Ross's detailed report, which was circulated, also itemised the group's programme of social events as well as fundraisers. He paid tribute to his committee and the public for its continued support and said the group looked forward to "another productive years".

The group's audited financial statement was delivered by its treasurer, Emily Fraser. It showed a balance of £5,739 with some deductions for medical equipment pending.

The office bearers, unanimously re-elected, were- Ernie Ross, chairman, Noel Donaldson, vice-chairman, secretary, Marge Donaldson, treasurer, Emily Fraser, minute secretary, Janette Sinclair, and committee members Janice MacGregor, Robert Bell, Joan Fraser, and John MacLeod.

Group supporter, Laird Sutherland was elected to the sole committee vacancy.

Guest speakers were two nurses from Wick's Riverview practice, Mahri Swanson and Laura Stewart who spoke on the evolving role of practice nurse to nurse practitioner. The nurses are currently studying in order to make the transition to the latter position which would enable them to take on some of the GP responsibilities, when necessary. One of the modules undertaken by Laura and Mahri was funded by the heart support group.

The group's next meeting is in the conference room of Caithness General Hospital, at 7.30pm, on June 3. All are welcome.
Related Organisations
Related Articles
Guest speaker at a recent Caithness Heart support Group AGM was local Highland councillor Nicola Sinclair who gave a thought-provoking address about health services in Caithness and the challenges facing them and the NHS. Cllr Sinclair is well placed to speak to groups about health service having been a founder member of Caithness Health Action Team (CHAT) and still involved in the campaigns over Caithness health issues.
Caithness Heart support Group AGM. Guest speaker was local Highland councillor Nicola Sinclair who gave a thought-provoking address about health services in Caithness and the challenges facing them and the NHS.
A TRIBUTE was paid at the AGM of Caithness Heart Support Group, recently, to long-serving chairman Ernie Ross, standing down after nine years service. Highlighting Mr Ross's contribution, the new chairman, Noel Donaldson said: "Ernie has not always enjoyed the best of health but has always given us a one hundred percent commitment to the group and that has been greatly appreciated." However, Mr Donaldson was pleased to add that Mr Ross was not severing his connection with the group but has decided to remain as a committee member.
Caithness Heart Support Group handed over the latest equipment it has funded, to the medical practices at Wick GP surgeries. Accepting an ECG machine from group member Janice Macgregor (right front) is Pearson practice nurse Shirley Macleod.
THE renovated croft house at the top of Newtonhill will be the focus for an illustrated talk by volunteers who are hosting it on behalf of Caithness Heart Support Group. The historic croft house dates back to the 18th century.
CAITHNESS Heart Support group recently bade a fond farewell to its patron Miss Anne Dunnett who retired from public life recently. The group was only one of several local organisations Miss Dunnett was involved in, not least as the county's Lord Lieutenant.
THE Thurso and Halkirk joint GP practice was delighted to receive much-needed replacement items for the surgery. An examination couch, heavy-duty, electronic scales and four pulse oxometers, were funded by Caithness Heart Support Group.
LOOK OUT your dancing shoes!...the Caithness Big Band is swinging into town next week. The musicians are again playing for the Caithness Heart Support Group, at Mackays Hotel, Wick, and it promises to be quite a night.
MOST of us enjoy a good story and here's an opportunity to hear a few of them. Caithness Heart Support Group's latest speaker is Eric Farquhar who will be delivering a selection of fascinating tales at the Norseman Hotel, Wick on Wednesday night - 4th November 2015 Group press officer Noel Donaldson said: "Eric has a great way of delivering these stories and I am sure it will be an entertaining evening." The story-telling starts at 7.30 pm in the Norseman's Heron Room.
THE Town and County Hospital's Newton Wing, at Wick, now has an ECG facility which will enable patients to have their hearts checked on-the-spot, without having to visit the town's Caithness General Hospital. The hi-tech box was funded by Caithness Heart Support Group and handed over, recently.