Long Service Award For SSAFA Stalwart
1st February 2015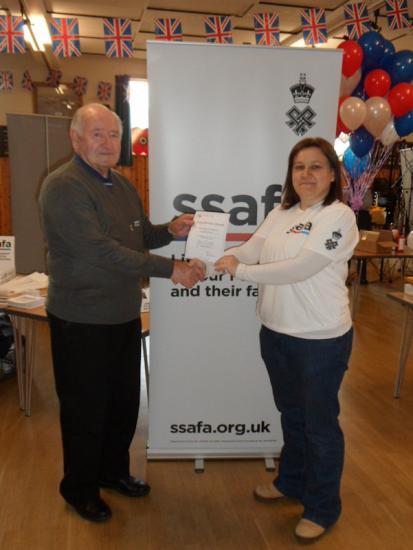 This item was lost in the email from March 2014.

Jack McKechnie receives his long service award for 20 years from the Branch Chair, Sharon Johns.

SSAFA is the UK's oldest Armed Forces charity. In February 1885, as the Second Expeditionary Force set sail for Egypt, Major James Gildea wrote to The Times appealing for funds and volunteers to look after families left behind. Within three months, the Soldiers' and Sailors' Families Association was born. Since then, we've supported millions of people, and millions more are eligible for help.

Through two World Wars and every subsequent conflict involving Britain, SSAFA has been here for our servicemen and women and their families. The ability to adapt quickly to their needs is still at the heart of everything we do. We never stand still, so our new services provide vital support wherever and whenever it is most needed, please visit the website for more details www.ssafa.org.uk

Although SSAFA is a National Charity, there are over 80 local branches run by volunteers. The Caithness branch was formed in 1985 and is still going strong today. The branch has 6 volunteers and new members are always welcome. We give practical, emotional and financial help to anyone who has served in any of the Armed Forces and since the branch started almost 30 years ago our small network of volunteers have been able to help more than 850 families.

One of our volunteers, Jack McKechnie who is the treasurer, recently received his long service award for 20 years within the branch. We would also like to thank Lady Thurso who has stepped down as our Branch President for all her hard work over the years and extend a very warm welcome to Lord Lieutenant Anne Dunnett who has taken over this role.

If you would like more information about volunteering or to enquire about receiving any support and assistance, please get in touch, email: ssafacaithness[AT]hotmail.co.uk or call Sharon Johns on 01847 891711.
Related Organisations
Related Articles
Commitment deserves commitment are the latest watchwords from SSAFA a charity set up to help serving memebrs or ex memebrs of the armed forces in the UK. Local Caithness organiser Sharon Johns from Murkle is looking for volunteers to help her provide support to local members or ex-members of the armed forces in Caithness.