Loch Seaforth The New Ferry For Western Isles Visits Scrabster
19th January 2015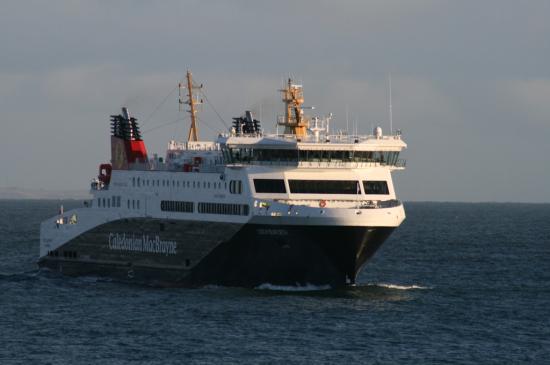 Ted Miller took photos of the new Western Isles Ferry today in Scrabster.

MV Loch Seaforth is the new Caledonian MacBrayne ferry being built for the Stornoway to Ullapool crossing. She was launched on 21 March 2014 and was delivered in early November 2014. She will replace the 1995-built MV Isle of Lewis as the main ferry on the route.

A replacement vessel for the Stornoway-Ullapool route was announced by Scottish Transport Minister Keith Brown MSP on 8 June 2012. Two weeks later on 22 June, Caledonian Maritime Assets Limited announced that the contract to construct had been signed with Flensburger Schiffbau-Gesellschaft MBH and Co KG in Germany. The name, Loch Seaforth was chosen in a competition run by CMAL, reviving that of MacBrayne's 1947 Stornoway mailboat. Construction commenced on 16 September 2013 with the cutting of the first steel.

After the shed at the Flensburger shipyard suffered storm damage in November 2013, they announced that the Loch Seaforth's delivery was to be delayed by about two weeks as a result of repairs to the shed roof. The vessel was finally launched on 21 March 2014, and was christened by Mrs Joan Murray, the eldest daughter of the late Captain John Smith, who was master of the original 1947 mailboat. There are also concerns over the timetables for the new vessel. Despite being capable of 24-hour operation, it was thought that the Loch Seaforth would not carry out 24-hour sailings in summer. Once delivered, she will replace the current ferry on the route, the 1995-built MV Isle of Lewis, which will remain as a back-up/secondary vessel on the route for a period of time.

MV Loch Seaforth will be operated by Caledonian MacBrayne on the Stornoway to Ullapool route.

She will be the main ship on the route, with MV Isle of Lewis being held in reserve on the route for a period. The ship departed Germany on her delivery voyage on 4 November 2014 and arrived in Greenock on 7 November 2014. After arrival, the ship commenced sea trials before going being laid up, owing to the unfinished piers at Stornoway and Ullapool. On 12 November 2014, she sailed to Ullapool to conduct berthing trials, which were successful and returned to the Clyde.

On 6 December 2014, she sailed for the first time to carry out crew familiarisation tests at her new hometown of Stornoway, despite the terminal not yet ready to accommodate her, before returning to the Clyde once again. When the pier works at Stornoway are fully completed, she is due to enter service at Christmas 2014 after successful trials at her new facilities.

Information from Wikipedia.

Photo
Ted Miller on 19 January 2015 at Scrabster.