Bumper Cheque For Caithness Heart Support Group
20th October 2014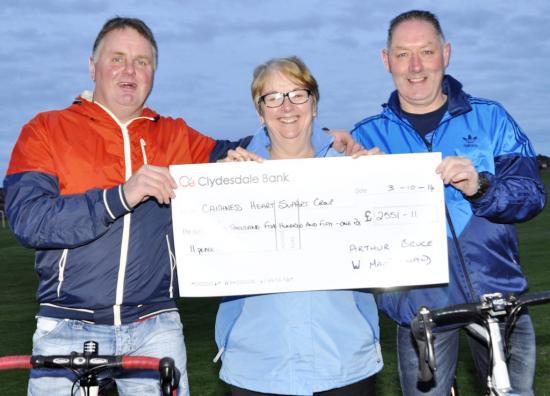 BIG CHEQUE and a sizeable amount to match...that's the sum total of a charity cycling challenge undertaken by Wick riders Arthur Robertson (left) and Willie Macdonald, recently.

The enterprising pair clocked up some 78 miles circling the county in demanding weather conditions, to raise a impressive £2,500 for Caithness Heart Support Group. Their route took builder Arthur and Willie, a typesetter, south to Latheron accross the Causewaymire to Thurso, on to John O' Groats and south, back to the starting line at Wick.

The group's press officer, Noel Donaldson paid tribute to the cyclists. He said: "The boys were punching into a head wind and drizzle in the first leg of their five-hour fundraiser. I know that Willie had a bug and was feeling under the weather but had no intention of calling off."

Mr Donaldson added: "Those who sponsored them and gave donations at a Tesco collection also deserved a big thank-you. One of our group's main commitments is raising money for medical equipment, some of which has cost over two thousand pounds.

Significantly, the cycling venture will completely finance a single item at one fell swoop which is quite something, and will be something that will be of lasting benefit for patients."

PHOTO
Heart support group treasurer, Emily Fraser receiving the bumper cheque from the cyclists.
Related Organisations
Related Articles
Caithness Heart Support Group handed over the latest equipment it has funded, to the medical practices at Wick GP surgeries. Accepting an ECG machine from group member Janice Macgregor (right front) is Pearson practice nurse Shirley Macleod.
THE renovated croft house at the top of Newtonhill will be the focus for an illustrated talk by volunteers who are hosting it on behalf of Caithness Heart Support Group. The historic croft house dates back to the 18th century.
CAITHNESS Heart Support group recently bade a fond farewell to its patron Miss Anne Dunnett who retired from public life recently. The group was only one of several local organisations Miss Dunnett was involved in, not least as the county's Lord Lieutenant.
THE Thurso and Halkirk joint GP practice was delighted to receive much-needed replacement items for the surgery. An examination couch, heavy-duty, electronic scales and four pulse oxometers, were funded by Caithness Heart Support Group.
LOOK OUT your dancing shoes!...the Caithness Big Band is swinging into town next week. The musicians are again playing for the Caithness Heart Support Group, at Mackays Hotel, Wick, and it promises to be quite a night.
MOST of us enjoy a good story and here's an opportunity to hear a few of them. Caithness Heart Support Group's latest speaker is Eric Farquhar who will be delivering a selection of fascinating tales at the Norseman Hotel, Wick on Wednesday night - 4th November 2015 Group press officer Noel Donaldson said: "Eric has a great way of delivering these stories and I am sure it will be an entertaining evening." The story-telling starts at 7.30 pm in the Norseman's Heron Room.
THE Town and County Hospital's Newton Wing, at Wick, now has an ECG facility which will enable patients to have their hearts checked on-the-spot, without having to visit the town's Caithness General Hospital. The hi-tech box was funded by Caithness Heart Support Group and handed over, recently.
CAITHNESS Heart Support Group handed over the latest items of medical equipment it has funded. Wick medical centre's Riverview Practice received an ECG machine and the Pearson practice, a blood pressure monitor and a pulse oximeter.
CAITHNESS Heart Support Group was praised for its role in advising people on the lifestyle changes which could pre-empt heart attacks, as well as supporting them, before and after their operations. The warm tribute, paid at the group's AGM, came from the county's Lord Lieutenant Anne Dunnett.
CAITHNESS Heart Support Group is hosting a major awareness event aimed at helping people to maintain and improve their health. Arranged on a drop-in basis, at the Pentland Hotel, Thurso, it will feature six organisations, the Caithness Diabetes Group, Wick Wheezers, the community stroke services of Chest Heart & Stroke Scotland, North Highland Cancer Support, Befriending Caithness, and Caithness Deaf Centre.