North Highland Young Engineers 2014
24th June 2014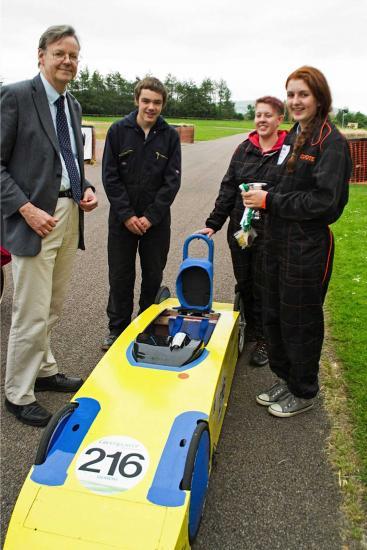 North Highland Young Engineers is an independent group that aims to introduce young people to engineering an technology by competing in the Greenpower Challenge, a competition in which team design, build and race electric cars at circuits all over the UK. NHYE are one of the leading teams, ranked 3rd internationally for the last two years, the aim for 2014 is to improve on that!

The first race of the year was at Nutts Corner, Northern Ireland. A small team from NHYE took new car, "Minion", to race against the novice Irish teams in the revamped format of two 90 minute races. Minion performed faultlessly and took the win in both races to become the inaugural Irish Champions.

Just days later on 13th June the North of Scotland heat was held at the Grampian Transport Museum. Minion was joined by 2010 & 2013 Scottish Champions Wacky Racer, specialists at this very tight track. Weather forecasts for race day were terrible, but apart from a drizzly start the rain stayed away and the first 90 minute race got under way. Thirty minutes into the race Minion was leading with Wacky Racer close behind and the critical pit stop phase of the race began, each team must make a minimum of two stops to change drivers, excellent teamwork saw the Caithness cars well ahead but with just five minutes to go a slight gearing miscalculation meant Wacky Racer's batteries failed too early and it slipped to third position with Minion taking the win.

An hour's tinker time allowed teams to make changes to set-up before race 2 began. Once again the NHYE cars took the lead and with 30 minutes gone were separated by just 10 seconds and dominating the race until Minion suffered a racing incident which punctured a tyre and bent the rear axle. Repairs were made but there was clearly some hidden damage so Minion was withdrawn for reasons of safety. Meanwhile Wacky Racer was in a battle for the lead with two cars based at the Grampian Transport Museum and eventually finished in an excellent 2nd place. Over the two races NHYE had recorded the greatest single distance to retain their title as Scottish Champions.

The two Caithness cars were driven by Ryan Cameron, Nicola Gray, Martin Falconer, Ailsa Coulden-Smith, Blair Marks and Craig Mackay, Dean Robertson-Carswell was making his debut as a driver and put in an excellent performance.

North Highland Young Engineers would like to thank Baillie Windfarm Community Benefit Fund and Dounreay Community Fund for their generous support without which our activities would not be possible.