NOSCA's New School Run Car Fleet
20th February 2014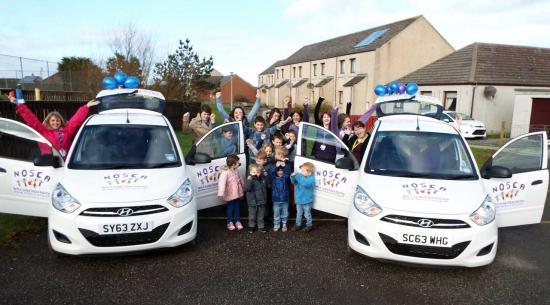 For families living, working or training in the Far North of Scotland, access to quality childcare can be a major barrier. NOSCA has spent many years building a strong service here in Caithness, operating a range of childcare solutions regulated by the Care Inspectorate including out-of-school care, daycare, pre-school education, breakfast clubs, toddler groups and crèches. This enables nearly 400 families to work, train or study here in Caithness, thereby contributing to the Caithness economy.

With a staff team of 35, working from three NOSCA centres in the county, at The Ormlie Centre in Thurso, The Family Centre in Wick and the Primary School in Castletown, NOSCA has grown into a strong and dynamic organisation. The new school run car fleet, a first for NOSCA, will provide a reliable and efficient transport service to and from schools and nurseries around the county which will meet the growing need for childcare places in the Far North.

"Demand for our services has grown considerably over the years, as our membership base in the county continues to rise year-on-year leading to an 11% growth in business" explained Finance Manager, Louise Furniss.

NOSCA's new school run car fleet has been supplied by Arnold Clark Hyundai in Inverness, who have sponsored the sign-writing applied by Mac Signs & Acorn Signs ofHarbour Road, Inverness. Sales Manager Tony Curran and Sales Executive Dave Welsh handed over the keys to the new fleet on Monday 7 February at the launch event in Inverness.

Along with the children, parents and staff delighted with the new vehicles, Team Leader,Pauline Mathers said "Having outgrown our original facility in Thurso at Miller Primary School, we now operate a very busy service from the Ormlie Centre with increased capacity for places. Our new vehicles are an integral part of the provision offering a reliable transport service to and from all the local schools, nurseries and playgroups. So the next time you see the NOSCA cars out and about, give us a wave".

For more information about NOSCA or any of their services please email admin[AT]nosca.org.uk, visit their facebook page 'North of Scotland Childcare Association' or website www.nosca.org.uk or telephone 01847 893000 or 01847 821500.
Related Organisations