Latheron Show 2013
13th July 2013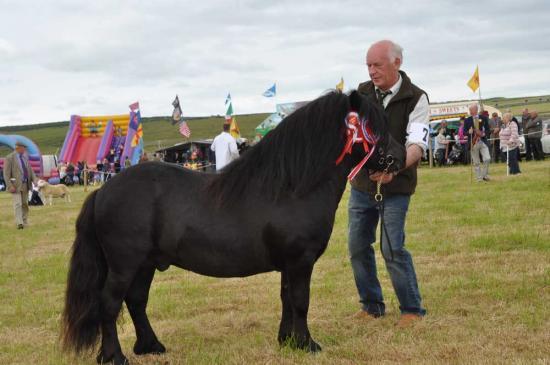 Report by Noel Donaldson

Neigh prizes for for guessing whose feeling just champion at the show!

A MAGNIFICENT Shetland stallion surpassed competition from its nearest sheep rival to trot off with the coveted supreme championship at the Latheron Show yesterday (Saturday 13th July 2013).

It was hugs all round for the Campbell family after the standard black, seven-year-old was adjudged best in show by James and Marion Sutherland of Granton Mains, Bower. They awarded the reserve champion-of-champions rosette to Douglas Webster, from Lower Reiss Farm for his sheep leader, an impressive Texel tup lamb.

It was very much William and Kathleen Campbell's day, though, as their optimism that their Millhouse Director could well steal the show in his very first appearance at the Latheron, proved fully justified.

The contender for the top honour caught the eye of the ringside equestrian fraternity when he won his class and then went on as horse champion to compete for the ultimate prize.
William Campbell had good cause to feel pretty pleased at the outcome given it was only his champion's second appearance to date. Millhouse Director took a first in his class at the Brodie show last week and now bids to double Mid Calder's triumph, at the Caithness County Show, on Saturday.

Mr Campbell said that his stallion, by Millhouse Excel out of a Millhouse mare, was "tremendously w ell bred", his parents having taken championships at Highland shows. The Shetlander, who currently has four females in foal, looks as if he is destined to carry on the prize-winning line.

The cattle championship ticket went over the Ord to J. Munro and Invercarron Farm at Ardgy. Danny McCarthy, Longoe Farm, Mey, had plenty to celebrate having lifted the supreme poultry championship.

Those popular workhorses of yesteryear, the Clydesdales, now enjoy a more relaxed way of life as show favourites. Although being assured of the top tickets -both entries coming from the Bissets, of Park Cottage, Brough, the Clydesdales, making a welcome return to Latheron after a few years' absence, attracted quite a bit of attention. Their first entry, Ha Durran Duke, took pride of place.

The show which has suffered on occasions at the hands of the weather, over the years, enjoyed acceptably dry conditions and patrons were rewarded with some warmth in the afternoon. There were plenty to interest them, stock apart with an excapeologist intriguing spectators with his routines. Highland dancing, the home industries and floral tents also proved popular, as did fancy dress and children's races, horse sports,sideshows and the trade stands and crafts.

The number of show entries came in at just under 600, slightly down on last year, due to a decrease in the turnout of horses attributed to competition from a south event.

Commitment to such a show, whether running it or attending, is of paramount importance and is reflected in the fact that Latheron recorded its 90th show.

Perhaps no-one epitomises the loyalty more than Barney MacDonald, Tomore, who has patronised the show, man and boy, notching up his 80TH appearance with an entry in one of the Highland Pony section.

Compere Helen Budge congratulated him on his record, over the tannoy and wished him "many more Latherons".