DISABLED YOUNG PEOPLE FROM CAITHNESS SHARE IDEAS WITH MSPS
26th June 2013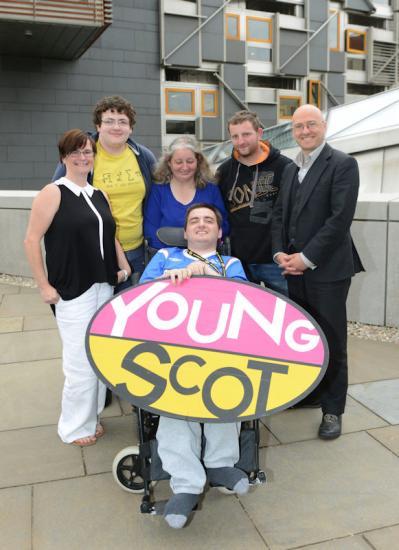 A group of disabled local young people from Caithness were invited to the Scottish Parliament to attend, 'Young Scot: Agents of Change' parliamentary reception to discuss how services can be improved to support the needs of disabled young people in their local area.

A group of disabled young people aged 16-21 years from Caithness have been involved in the national project, 'Young Scot: Agents of Change. Supported by the national youth information and citizenship charity, Young Scot, the project recruited five groups of disabled young people across Scotland to encourage them to explore ways in which they influence local services, particularly when moving to adulthood.

The youth-led event brought together 60 disabled young people to share their various experiences and ideas for future change. The event was attended by the Children and Young People's Minister, Aileen Campbell and Patrick Harvie MSP, and other influential figures.

The Caithness group presented their ideas at the event, which included:
· Local services need to have a greater awareness of their needs to make their lives better

· Retailers and restaurant owners to have increased awareness and better understanding of the law

· Premises need to be more accessible for wheelchair users

Traylin Peats, 22, from Enable's Caithness Inspiring Young Ambassadors, said: "I wanted to get involved in the project because it helped my friends in the community and allowed them to get to some of the places that they couldn't before. Tonight is very important because we can get our views put across which would mean better access for disabled young people up in the far north of Scotland.

"The project gave us something to do that helps the community and helps my friends, that's what I enjoy doing. We want to see better access for people in wheelchairs and people with disabilities, into shops and other premises, like nightclubs. We need better funding for the shop owners to help them."

Louise Macdonald, Chief Executive, Young Scot, said: "The Young Scot Agents of Change project has put young people's ideas, experiences and solutions directly to the people who can help improve local services to suit their needs. We'd like to say a huge thanks to all our local partners and young people involved, who have worked to hard and have put so much passion to deliver the project. Young Scot Agents Of Change has amplified the voices of disabled young people but this is only the beginning. We'd urge any service provider, organisation or business to consider how they can involve disabled young people to influence their services, and make them more responsive to their needs."

Aileen Campbell, Minister for Children and Young People, said: "Young Scot ensures that the views of young people are accounted for in the key issues that affect them and were closely involved in our recent consultation on the Scottish Government's first Children and Young People's Bill.

"I very much welcome the chance to meet young people taking part in the Agents of Change project and appreciate the time and thought they have invested in bringing their views to Parliament. As a Government, we are doing all we can to empower and involve disabled young people in our communities and I value every opportunity to hear their views on what can be done to make things better."

The participants hope that their findings will inspire national and local government and other bodies to increase their efforts in engaging and responding to their needs in Caithness.