BEN NEVIS: 24 hour challenge for charity
19th May 2013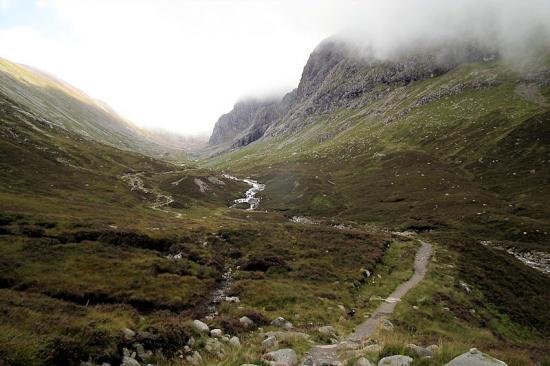 On the 25th May local adventurers will climb the UK's biggest mountain in a challenge to raise money for local charities.

Annie Hall from Bettyhill is a Reablement officer with NHS and works part time in North Coast Leisure Centre where she works as a Pool Lifeguards & Swimming Teacher. Annie is raising money for North Coast Leisure Centre for Community Development Project which impacts on those in the community helping individuals most at need to improve health & well being. North Coast Leisure Centre was the first pool in Britain heated by locally sourced woodchip, has recently had solar panels fitted to the roof & will soon be fitted with UV filtration system.

Annie is going to attempt to summit Ben Nevis TWICE in 24hrs, this is a total ascent of 8800ft. Annie would like to thank everyone who has sponsored the challenge already however if anyone would like to sponsor Annie please visit
https://fundrazr.com/campaigns/2VoSc
or pop into the leisure centre where you will find a sponsor form and can try out the excellent facilities on offer – pool, spa, sauna, gym & smoothie bar. North Coast Leisure Centre runs several classes throughout the week including Zumba, Aquacise, Boxercise & Nordic Walking.

Scott Penman is a self-employed Joiner (Penman Joiners) from Bettyhill another climber hoping to summit Ben Nevis TWICE in 24hrs. Scott is better know for his ultra shiny VW Transporter Camper & motorbikes, however he has no engine, just his own two feet to raise money for Bettyhill Gala Fund. Bettyhill Gala is a long running family event started in 1988 which brings folk together over 4 days, there is lots of competition when creating floats. This years Gala is 8th,9th,10th & 11th August, Scott wishes to raise money for the kids on the Saturday events held on the football pitch, last year there was not nearly as much for the kids as in previous years. Scott hopes to inject money to Gala Fund to keep the celebrations & tradition alive. He is hoping to raise money for field events such as Inflatable sumo wrestling & bungee run, Barfly and more traditional games.

Scott would like to thank everyone who has sponsored the event already.
Please sponsor Scott for this cause, you can find a sponsor form in any shop in Bettyhill or call 01641521482 to donate.

Phil Adshead, a dedicated surfer who works at Forss House Hotel is attempting to climb Ben Nevis FIVE times within 24 hours. This adds up to a 22,000 ft climb. Two years ago he climbed Ben Hope, the most Northly Munro, EIGHT times in 24 hours with half an hour to spare – (Ben Nevis is 1400ft higher than Ben Hope).

Thor House is a combined Day Care and Respite Centre for people with learning disabilities.  All of the people attending have special needs and require a team of dedicated staff to help them fulfil their daily lives.  At Thor House we are constantly trying to improve the service we can provide by increasing the range of activities available to them.  Phil's last fund raiser helped towards completing our much used Sensory Summer House and Garden. This time we are trying to raise money to buy Disability Sports Equipment (inspired by last years Thor House Olympics) and materials for building raised beds in the garden.
Sponsor him online at
http://www.justgiving.com/BenNevis24
or do it by texting PADS76 followed by the amount in pounds to 70070 -every pound counts! Or by texting PADS763 to 70070 you can donate £3 directly to the Friends of Thor House for the Ben Nevis challenge. Forss House Hotel have sponsored the event to cover costs. Thurso Bike Shop, We Frame it, the Castle Arms Hotel, the Northern Sands Hotel, the Melvich Hotel and Carrots have also kindly displayed collection pots for the next two weeks!
There will also be a dedicated support team including Sheila Finlayson of Caithness Osteopathic Services and Steve Hicks of Thor House who are not only climbing the mountain, but will take turns to provide plasters and tea! At base camp Phil's partner Tamara Hicks and a crew of keen supporters will help keep everyone going with hearty soup and hide the fizz ration till the end!

Phil, Annie and Scott would like to thank anyone who is generous enough to give any amount to their causes, every pound pledged will help spur them on with 24 hours of climbing ahead of them they will appreciate your help!
Look out for progress updates on the 25th/ 26th May for our climbers on
http://www.justgiving.com/BenNevis24

PHOTO
The north face of Ben Nevis.