Glass Recycling Photo Competition Winners
17th April 2013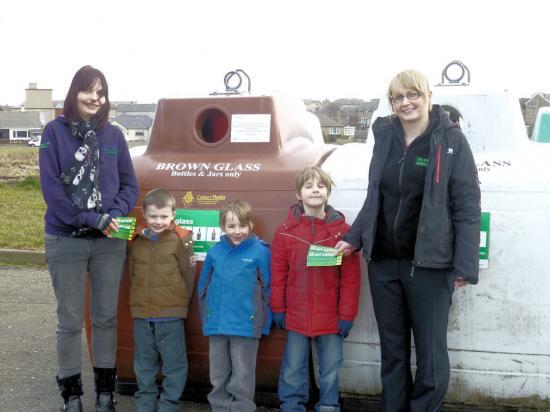 Five lucky winners who recycled their glass at their local Recycling Point, have received a £20 voucher for the Thurso Cinema.

The Highland Councilís Waste Awareness Team ran the recent competition, which invited householders to email the Council a photograph of themselves recycling their glass, to be in with a chance of winning.

Twenty-six entries were received, and the five photographs chosen at random were: Caitlin Macleod (10) from Staxigoe, Gregor Mill (5) from Achscrabster, Logan McNeill (5) from Wick, Ellie & Lucy Harper (7 and 5) from Wick, and Calum & Euan Noble (7 and 5) from Thurso.

The competition was organised as part of a drive to increase glass recycling in Caithness, which currently has the lowest glass recycling rate in the Highlands.

Waste Management Assistant Andrea Wotherspoon and Lyn Scollay the Manager at The Thurso Cinema met up with some of the winners to present the £20 vouchers.

Andrea said: ďSome householders recycle their glass bottles, but glass jars are often forgotten about. This includes jars after sauces, jams, spices and baby foods. All glass bottles and jars can be recycled, and itís easy to do. Just remove the lids and rinse them out before popping them into the nearest glass recycling bank.Ē

Recycling just one glass bottle or jar creates 20% less air pollution and 50% less water pollution than creating a new glass jar or bottle from scratch. It also saves enough energy to power a 10 watt light bulb for an hour or a computer for 20 minutes!

PHOTOS Ė Gregor Mill from Achscrabster and Euan & Calum Noble from Thurso receive their vouchers from Waste Management Assistant Andrea Wotherspoon and Lyn Scollay, Manager at Thurso Cinema
Gregor
Euan and Callum
See Photo Gallery link at the top of this item.