Oil Well Flaring Gas Near Lybster, Caithness
11th April 2013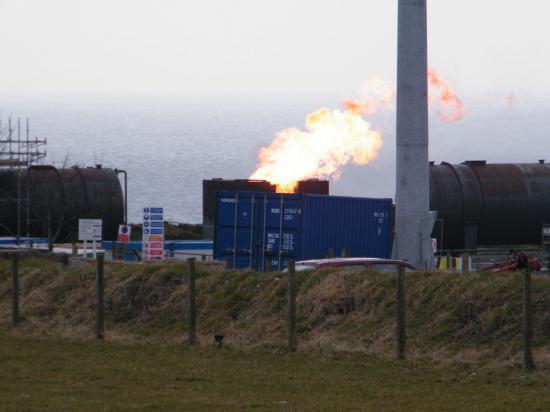 One of the few land based oil wells began production near Lybster, Caithness, Scotland.
The well is operated and owned by Caithness Petroleum.

In 2008, Caithness spudded the L11/24-3z development well on the Lybster field. The well was drilled from an onshore site two kilometres south of the village of Lybster. The Lybster structure is crossed by a north-east/south-west trending fault. The well appraised the area west of this fault and was suspended. In 2010, following evaluation of these results, the well was extended across the fault to twin the discovery well, which had flowed 2,000 barrels of oil per day on test.

A horizontal section was drilled through the Beatrice B sandstone reservoir. After completing operations, we released the rig and brought in a coiled tubing unit to perforate and test the well. In August 2011, the well flow tested at rates up to 1,900 barrels of oil per day through a restricted choke. The well is now on long term production test with produced oil being exported by road tanker for sale.
Trap Oil has a 50% stake in the Lybster field.

Exploration is ongoing in Caithness. There maybe the possibility of using the gas currently being flared off to help with heat for the oil extraction process and to feed electricity to the national grid.

Currently 8 people are employed in shifts at the oil well at Lybster. With the possibility of other sites being opened up there maybe more potential for employment in the local oil industry even if it is small at present. Who predicted this a few years ago?